Minna Ola: My Main Squeeze!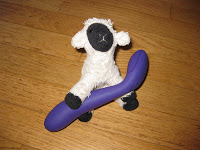 "How can you find something new to say about vibrators?" a male pal asked me. "Aren't they all alike, after all?" No, they're not all alike — and the new Minna Ola shows just how innovative a vibrator can be! There's much to love about the Minna Ola from Babeland.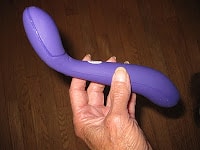 First notice the overall shape – definitely ergonomic. Hold the comfortable handle, and the padded end fits beautifully over the clitoris and surrounding nerve endings with no painful wrist tweaking.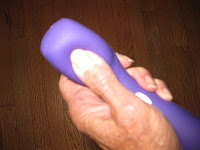 Second, feel the padded end! It's soft, just right for our delicate tissues. Were they thinking of older women when they designed this? You've heard me complain that some clitoral vibrators are made of materials that are just too darned hard. Not this one! It's cushy.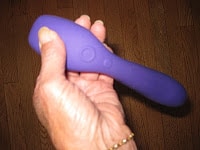 Third, turn on the vibrator by pressing the button at the narrowest part of the neck, and press the pad again. The harder you press or squeeze, the more intense the vibrations. Sweet! No more figuring out how many times to press the controls to get the strongest vibration. Just press the padded part and it rumbles into action; the harder you press, the stronger the vibes.
Oh, but you're not done with the marvels of the Ola's design. You can create your own perfect pattern! Let's say you like a pattern that goes "quick-quick-slowwww-S T R O N G." Press the bigger button (the one above the on-off button), then press the padded part in that "quick-quick-slowwww-S T R O N G" pattern. Then release your pressing, and the pattern will repeat! Want to lock it in? Press the bigger button again, and the pattern will repeat until you press the button a third time or turn it off.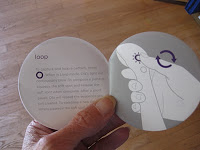 If those instructions sound complicated, I thought so, too, until I tried it a couple of times. Then it made perfect sense. Fortunately, there's a instruction booklet with clear words and illustrations.
As if we needed more reasons to love the Ola, here are some more: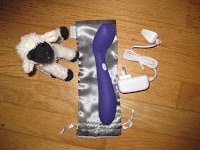 It's completely waterproof. Take it into the bath or shower!
It's rechargeable with a magnetic recharger, so easy. No batteries, no cords while in use!
It's made of high-quality, body-safe silicone. (Use a water-based lubricant.)
It's great for couples as well as solo – nicely curved to fit between bodies.
It can be used vaginally as well as clitorally. (I didn't try it this way, too large for me.)
It's really quiet.
The vibrations are rumbly.
It arrives in a cute box with a nice storage bag.
Does this mean it's the perfect vibrator? I wish the strongest vibrations were stronger than they are. But that's me, always seeking turbo power. If you don't need super Hitachi-strength vibrations, yes, it just might be the perfect vibrator!
Minna Ola by Babeland
Imagine never having to deal with confusing buttons or dials on your vibrator again…
Price: $149.00