Jimmyjane Iconic Rabbit Vibrator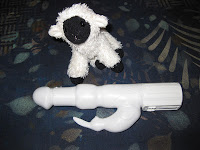 Luxury vibrator company Jimmyjane has "curated" (as they put it) a collection of white vibrators of various types. Many thanks to Gasm.org for sending me the Iconic Rabbit for review.
If you're new to the "rabbit" vibrator genre, that's the pet name (literally) that we give to dual-action vibrators that have both a phallic-looking section for insertion into the vagina and an outer, vibrating piece — often shaped like a rabbit or other animal — that flutters against the clitoris.
I love the texture of the elastomer material of the Iconic Rabbit — just the right degree of hard vs. squishy. Elastomer is body safe, free of chemicals that leach into the body. You can use either water-based or silicone lubricant with it.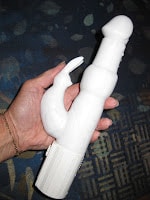 I like the flexibility of the clitoral stimulator (the part that's shaped like a rabbit). You can press it closer or open it up more to land where you want. The fluttery ears can hug your clitoris, or you can tuck them under the bunny face
and press the whole thing against your clitoris for extra vibration. It's mild to moderately strong, not a powerhouse, but no wimp, either.
My least favorite part of the Iconic Rabbit is the vibrating beads section. You don't see them, but the bulge at the bunny's eye level contains a bunch of vibrating beads. That could be fun, but it hits me right at the entrance when I position the bunny ears where I want them, and it's a wider and harder bulge of the vibrator, and that's not ideal. Just me, though, you might love that feature and the fit. The 5″ of insertable length is mostly about 1.25″ in diameter, except for the bulge of vibrating beads which is a bit more than 1.5″.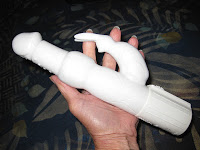 Fortunately, the bunny and the shaft are independently powered. Insert three AA batteries (included), and slide the power button up or down for each. You can vibrate the heck out of the bunny. Meanwhile you can either keep the shaft vibrating on high, or turn it down to low or even off, if you want the feeling of fullness without internal vibrations or the beads swirling around.
It's tough to get the right "fit" with a rabbit. Is the insertable part
exactly as deep as you like it when the clitoral part is positioned
perfectly? There's no way to know before you try it. Too bad that there's no diagram with a ruler or tape measure showing exactly how far everything is from each other. Too bad they're not adjustable, too, though I know that would be problematic, with seams in places you don't want seams if it's made to telescope to different lengths.
It surprises me that as expensive as Jimmyjane products are, a
storage pouch is not included with this Rabbit. A box, yes, but if you're got a lot of toys (you do, don't you?) you don't have space to store boxes. The elastomer is
wonderful to the touch, but
it picks up lint, dust, and cat hairs like a magnet — and that's right out
of the box, before any private use. It's easily washable –just be careful that the battery area doesn't get wet.
Are you familiar with Gasm.org? This site celebrates "the female orgasm, the experts, the products, and you." I'm interviewed here about orgasms after menopause, and you'll also find a video of me talking about orgasms (no, not demonstrating them — that's not what I do!) here.