Tips to Increase Sexual Pleasure, Solo or Partnered – from The Ultimate Guide to Sex after 50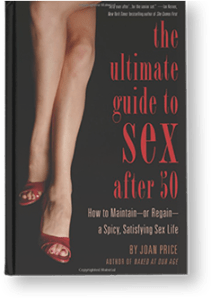 "My body feels like an alien being," you tell me. "I want my old self back!" We spent decades figuring out who we were sexually, what turned us on, what touch or rhythm brought us to orgasm, and how to please a partner. Now it feels like we have to learn this all over again.
Aging affects sex in a gazillion ways: physical comfort, emotional needs, body image, and what we need for sexual arousal and pleasure, to name a few. This is true whether we're having sex with someone new, a reunited lover from our past, or a longtime partner. It's not what we signed up for, but it's what we get with aging.
We may need stronger or lighter stimulation now, a gentler or rougher touch, slower or faster rhythm, and lots more time. Sometimes we don't even know what we need, and we mistakenly think that if sex as we knew it no longer works for us, we're doomed to a sexless future. Not true! We just have to rediscover what turns us on now and makes our body respond. Think of it as a wonderful journey of discovery.
Instead of focusing on what doesn't work, let's focus on what does work to increase sexual pleasure, and make that special, such as: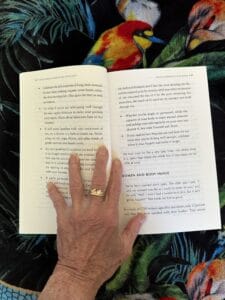 Plan sex for the time of day when you are most energetic and in the mood for sex. Enjoy a morning or afternoon delight. If energy is a problem, try resting or napping first.
Have sex before a meal—not after one. When our diminished blood flow is working on digestion, there isn't enough to arouse the genitals. You'll have more energy and better arousal before eating.
If a medical condition is making sex problematic, plan your sex dates for the times that your medication is working best to ease the condition while leaving you lively. Ask your doctor about the timing of your medications—is there a way to modify the schedule for better sexual response and comfort?
Celebrate the deliciousness of long, slow arousal. Rather than wishing orgasm came faster, enjoy the slow-moving ride.
Try new positions if a position you used to love is no longer comfortable. If one position is the best way for you to reach orgasm but you can't stay in it comfortably for a long enough time, try starting in another position and finishing with your favorite.
Whether you're single or partnered, relish the capacity of your body to enjoy sensual pleasure and indulge yourself regularly on your own.
From Chapter 2,  The Ultimate Guide to Sex after 50: How to Maintain – or Regain! – a Spicy, Satisfying Sex Life by Joan Price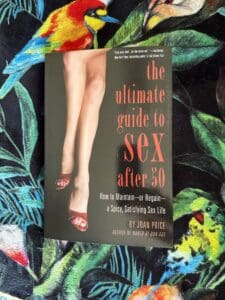 The Ultimate Guide to Sex after 50: How to Maintain – or Regain! – a Spicy, Satisfying Sex Life offers helpful information and practical tips for enhancing or reviving your sexual pleasure after 50, 60, 70, and beyond. Chapters cover these topics:
Busting the Myths about Sex and Aging
What's Happening to My Body?
Getting Your Mojo Back
Sex with Yourself and Toys
Sex with a Longtime Partner
Stretching Boundaries
When Intimacy Ends
You and Your Doctor
When Sex Is Painful
Cancer, Cancer Treatment, and Sex
Heart, Brain, Joints, and Sex
Sex without Erections
Single After All These Years
The New Rules of Dating
Sex with a New Partner
Safer Sex: Always
Sexy Aging Going Forward