Posts Tagged 'Robert Rice'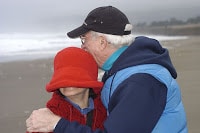 (Robert can't stop laughing after pulling my hat down)
For Valentine's Day this year (2013), I'm re-publishing the post I wrote in 2011, updating it slightly.
I always loved Valentine's Day with Robert. We bought each other gifts, professed our love for each other emphatically and often poetically. We spent the afternoon making love, glorying in the magic of the powerful passion we felt for each other. We would love each other for hours — a candle lighted even in the bright light of afternoon, the bedroom door closed though we were alone in the house. I can still feel the touch of his skin, the sweet pressure of his lips. I hear the love words he muttered.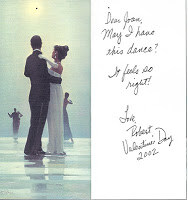 Dancing was always a part of our self-expression and love expression. One of "our songs" was Anne Murray's "Could I Have This Dance?"
Could I have this dance
for the rest of my life?
Would you be my partner
Every night?
When we're together,
It feels so right.
Could I have this dance
for the rest of my life?
Every Valentine's Day and birthday — and sometimes New Year's Eve, too! — he danced for me: a special dance he had created just to please and entice me. He practiced for days in private, choosing the music, the choreography, and the costume that he would shed slowly and sensuously as part of his dance.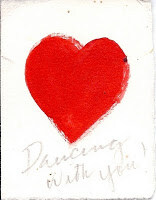 2013: This is my fifth Valentine's Day without Robert. It wasn't until the third one that I was able to remember his special dances without crying. What beautiful gifts he gave me throughout our seven years together. What beautiful gifts he gives me still, as I remember him.
For all of you who have a special loved one on this Valentine's Day, glory in what you share. Never take for granted that "the rest of my life" means anything more than "this moment right now."
For all of us who are unpartnered on this Valentine's Day, let's glory in the love we know how to give, and let's give it to ourselves and the people in our lives today. Let's do something special that nurtures us and delights us. Let's make someone else feel special. Let's celebrate our capacity to feel joy. The more love we give, the more we have within us.
On this 2013 update, a good friend is just home from the hospital after suffering a heart attack. "I died three times," he told me — that's how often they had to re-start his heart. We need to make a special point always of letting the people we love know that we love them. We never know how much time we have.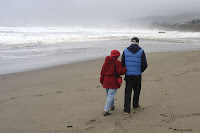 Whether or not you have a lover right now, you do have people in your life who make your life better just by being in it. On Valentine's Day or any day, tell them how you feel.