LELO Mona: Elegant Instrument of Pleasure!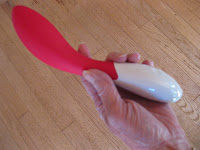 LELO sex toys are beautifully made, both functional and artistic in design, and absolutely made for pleasure. The
LELO Mona
is curvy, sleek and sexy, and practically silent. Thank you,
Tabu Toys
, provider of
sex toys
, for sending me the beautiful and elegant
LELO Mona
for review.
The Mona can be used as either a clitoral vibrator or a G-spot seeking insertable vibrator. For clitoral stimulation, either touch the tip to your sweet spot, or position the whole curve over your vulva–the vibrations seem to make the whole vulva sing, with of course a special focus on the clitoris. I didn't find the vibrations quite strong enough to take me to the finish line this way, but I enjoyed it as a most pleasurable warmup.
The Mona shines — or should I say glows? — as an insertable vibrator. It has an unusual shape: a tapered tip that bulges to about 1.5″ in diameter, then thins considerably. Besides being pretty, that shape let's you insert it, then let go and use it hands-free (or practically — you may need to touch it lightly to keep it from turning). Once inserted, it's not likely to pop out at inopportune moments. If you prefer thrusting, the shape gives surprising sensations–its curvy bits are not at all penile, which you might like or not. It feels really good, just not like a penis, if that's your shape of choice.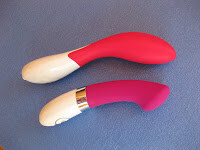 It's rechargeable, which means you plug it in for a while to charge the toy, then it will go unassisted for hours. No cords or batteries to fuss with while you're concentrating on your sensations.
For those of us older folks with arthritis, the ergonomic design makes it easy to hold comfortably, no gripping, no weird angles. The only problem is that it's easy to accidentally press a control button, changing mode or intensity.
The Mona is a mid-sized vibrator, larger than my favorite LELO toy, the Gigi. Here they are side by side for comparison.
Yes, the Mona is expensive. It's a luxury toy: beautifully designed, easy to hold and a pleasure to use, made of medical-grade materials, velvety smooth, quiet, with six modes of stimulation and a variety of intensities. If you can afford to give yourself a special gift of pleasure, go fot it. Or direct a generous friend to this review!