MiMi Soft: Cushy Tip Vibrator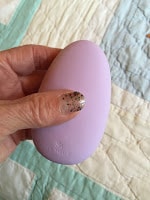 Many of us like strong vibrations, but we don't like a hard toy pressing against our increasingly delicate genitals. A vibrator that presses against the clitoris with a bit of cushioning is just right, and the new
MiMi Soft Rechargeable Waterproof Vibrator by Je Joue
 from 
Good Vibrations
does exactly that.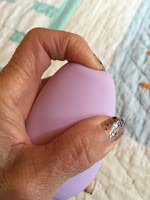 The vibrator is firm and smooth, ABS plastic covered with a layer of silicone except that the tip is soft and cushy. Thank you, Je Joue. You have to press the tip hard against you to feel the "give" of it, but that's often a natural action anyway as arousal rises. The soft tip makes the 
MiMi Soft 
 an improvement over the
original MiMi
. I liked that one, but this one wins hands down… or hands on.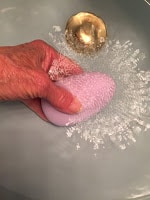 The MiMi Soft is smooth and tiny enough (3 1/2″ long x 2 1/4″ wide x 1 1/4″ thick)
to fit in the palm of your hand. If you're using it with a partner, it fits easily between two bodies without getting in the way. It's completely waterproof for use in the tub or shower, which is a delight.
MiMi Soft has five vibration settings and it's supposed to have six patterns. I don't care about patterns — I prefer steady and strong — so I didn't even notice that center button that controls the patterns didn't work on mine. I've read other reviews and never read about that issue, so I'll have to assume that this was just a problem with mine. (If I cared about it, of course Good Vibrations would replace it.)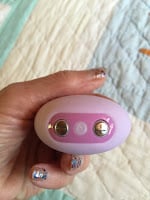 I complained about the strength it took to press the buttons of the original MiMi, and although this one isn't as difficult, it still needs pressure. When your fingers are lubed up, it's impossible to feel the difference between the "+" and the "-" buttons, so you might have to grab your reading glasses and memorize which side is which so you don't accidentally turn it down when you're trying to turn it up.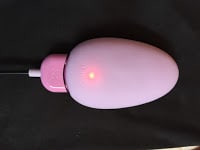 Charging is easy with the magnetic charger. Plug it in, charge it for two hours or less, and you're good to go with no cords in your way.
Is it strong enough? You know me — I like really strong vibrations. This one is not as strong as my favorite vibrators, but it does pack a punch for its size and the vibrations feel really good, less buzzy than most. For those of us who travel, the size is right!
Thank you, Good Vibrations, for sending me the MiMi Soft Rechargeable Waterproof Vibrator in return for an honest review. Right now it comes with a free silky blindfold.