Pulse II Duo and Solo: Reviews from our contest winners
9/1/2017 note: My links formerly went to older models of the Pulse which were new at that time. I've just changed the links to the newest model, Pulse III, even if the text refers to an older model.
*  2021 update. This version of the Pulse is no longer available. Links have been changed to the
Pulse Essential
, the newer comparable model.
August 26, 2016: So here's how this contest happened. I have been a fan of the Pulse penis vibrator since late 2013, when I first learned how it enhances sex for penises, with or without an erection. Since that time, I've raved about it, along with my other favorites, at my presentations. During one of these, a man raised his hand and asked, "Do you need another Pulse tester?"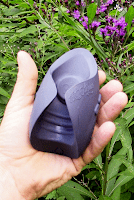 The audience and I laughed, but then I started thinking: At our age, especially, we have such divergent sexual needs and challenges. What if I did enlist the help of some carefully selected assistants to review the new Pulse II Solo and Duo? I asked Hot Octopuss, creator of the Pulse, whether they'd sponsor a contest. We were on!
The deal was that potential Pulse reviewers would enter my contest, describing why they wanted, needed, and deserved a free Pulse II. They would promise me an honest review if they won. I chose three winners out of many fine entries. Now that they've had time to test and retest their prizes (thanks, guys!), here are their reviews. Enjoy!
Boone
When erectile dysfunction struck me a few years ago I was in denial. I blamed stress, tiredness, just about anything I could think of. I finally had to admit to myself as well as to my partner of 10 years that what was happening was erectile dysfunction.
She took the threat to my heart health seriously and encouraged me go to the doctor. As difficult as it I found talking to someone about such a deeply personal issue. I am glad I went. The doctor informed me I had a high level of bad cholesterol and high blood pressure that needed to be controlled through medication. The good doctor also offered pharmaceutical options for my ED. I decided to pass on that, based on the adverse side effects.
My partner also went searching online for other alternatives to help my ED and found Joan Price's book, 
Naked at Our Age
. After reading the book and some of Joan's blog, she decided to introduce sex toys into the bedroom. She also began encouraging me to view sex as not always having to lead to penetration.
Before the Pulse Duo I hadn't tried a vibrating sex toy targeted specifically at men. I was a bit skeptical of this odd shaped silicone contraption. I had only used silicone c-rings and experimented with applying my partner's electric vibrating wand to my soft penis. I found these pleasurable and helpful in my struggle with ED.
The Pulse II Duo was more than I could have hoped for. I love that I can easily enjoy sexual pleasure while not being fully erect. The design of the toy is key, open on one side and you can lay your flaccid penis within it. The Duo is equipped with a variety of speeds and oscillating patterns. The vibrating or oscillating circular part (the pulse plate) feels wonderful as you move it up and down the shaft. It feels exceptionally good on the sensitive glans head and its ridge. You or your partner can control the level of friction just by squeezing tightly or releasing. Using lube or going without also can change friction and sensation.
I found that most times I was quickly able to get fully erect from the pleasurable sensations I enjoyed from the Pulse II, and it always helped me achieve a powerful orgasm. The Pulse is a quality product that could be a Godsend to any man, but especially those who are struggling with ED.
The Pulse II Duo is marketed as a couple's toy and comes with a remote control for the vibrating underside. This extra vibration area stimulates the partner of the person wearing the Duo. The remote controls the strength of the vibrations. This is a nice and thoughtful touch.
My partner and I tried using the Pulse II Duo in the missionary position. Unfortunately, although she found the Duo's vibrations enjoyable, they were just not powerful enough to bring her to orgasm.
Neither one of us let this small disappointment take away from the high I was feeling from my new found confidence. We experimented with simultaneous masturbation. I use the Pulse Duo and she uses her wand. It's a new aspect of our sexuality to watch the other self-pleasuring, and we both find it highly erotic.
I have a new confidence in the bedroom now. My partner and I have always enjoyed the sexual aspect of our relationship and I was so afraid of losing her to a man who could satisfy her. I now realize these fears were unfounded and just my insecurities at work. I am beginning to fully embrace the reality that sex does not have to equal penetration. There are so many other sensual pleasures to indulge in. I just wish it hadn't taken me 52 years to figure this out.
Jeff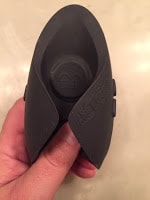 The Pulse II was designed for men like me. I have had low testosterone and taken hormone supplements since my mid-thirties. Now, at 55, I also have high blood pressure and high cholesterol. As a result, my erections are weaker and easily lost without the right kind of ongoing stimulation. Male stroker toys never worked well for me — a sleeve of squishy artificial flesh didn't keep me hard.
My first impression of the Pulse's design was its alien yet elegant aesthetic. If I didn't know it was a sex toy, I might expect to see it as a prop on Star Trek. It features black curved contours, expandable wings that wrap around the penis (whether soft or hard), and ridges that stimulate its underside. Most important is the pulse plate, roughly the diameter of a quarter, positioned to provide direct stimulation to the sensitive spot at the frenulum of the penis. The pulse plate generates an oscillating vibration to the frenulum in a way that both generates an erection and provokes a climax.
Two sets of controls operate the Pulse. On the left is a power button that also changes the pulse pattern. Holding that button for over a second toggles the power on or off. Shorter taps on that button change the stimulation from a simple steady vibration to one of five additional pulsing patterns. On the right side are + and – buttons that increase and decrease the vibration speed and intensity through nine levels. Unique to the Duo model is an additional vibrator on the underside of the unit,
positioned to stimulate a partner. A small remote control disc activates that vibrator through three speed settings.
Use of the Pulse seems intuitively obvious. Just place your penis, whether erect or flaccid, in the Pulse, turn it on, and away you go. In practice, however, it does have its challenges. The Pulse is neither fish nor fowl. It is not a stroking sleeve that simulates the feel of human skin. Nor is it a vibrator that can be easily positioned to directly stimulate exactly where you want it to. It requires a bit of experimentation to find the right positioning, speed, and movement to provide satisfying stimulation.
The buttons require a frustrating amount of pressure to operate. Most settings for both pulse patterns and vibration speeds weren't very arousing – more like a mild tickling sensation. In my first use, I was a bit disappointed until, like Goldilocks, I finally found that "just right" speed. The Pulse then rocketed me to a climax in just a couple of minutes, before my erection had even completely hardened.
The Pulse can be used with lube, but I prefer the more intense direct stimulation I get without. I tried the different pulse patterns, but for me none were as arousing as the default constant vibration. Some speed settings were too slow and mild, and others were too fast and numbing, but a few in between were "just right."
The Pulse can also be a hands-free device, producing a climax with no manual stroking or additional stimulation needed. However, I found those orgasms less powerful and not very satisfying. I get a truly intense orgasm from slowing down just before crossing the finish line, and letting the energy and anticipation build for several seconds. Then, when I can't hold back any more, the release is an explosive climax. When using the Pulse in a hands-off manner, though, there is no slowing to build anticipation and energy. Instead, it propels you constantly, inexorably, straight to the goal and across the line without any change in speed or intensity.
I prefer taking some hands-on control. Just a slight stroking motion, or a change in vibration speed at the right time (in spite of the hard-to-press buttons), can provide enough variation to generate a truly powerful  climax.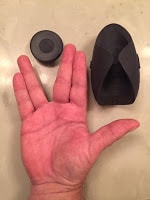 As a toy for couples, my partner Christine found the Pulse less innovative. Its hard, smooth surface felt cold to her at first, and she was disappointed at the lack of options in the underside vibrator. It only cycles through three basic speeds, with no
oscillation or pulsing patterns. We experimented with a few different positions. Most enjoyable was a pseudo-missionary position, with me kneeling between her legs and positioning the Pulse on top of her clitoris. I could take control of the speed of  the underside vibrator with the remote control disc, while enjoying the separate oscillations of the pulse plate against my penis. With some foreplay for her before applying the Pulse, we were able to enjoy a near simultaneous orgasm.
In conclusion, the Pulse is not quite the ultimate male toy. But it is a very effective and stimulating solution for men who can't always maintain a solid erection. At the right setting, it can quickly bring you from flaccid to climax in just a few minutes. With experimentation and practice, it can also be a gratifying, versatile toy for both solo and couple play.
Tom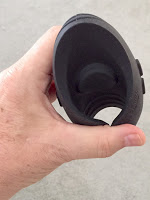 I am 64 and my wife is 63. We have been together for over 40 years and enjoy our sex life. I was diagnosed with prostate cancer in 2009 and had my prostate removed with robotic laparoscopy. I have recovered well, however, I do need Levitra for intercourse. I find that even with an erection, it sometimes takes me a very long time to orgasm. This can be difficult for my wife trying to stimulate me.  Sometimes it takes so long that my erection is no longer firm, and I need an even greater level of stimulation.
The Pulse seemed like something we could use together to stimulate me to orgasm. Could it produce an erection and orgasm even without Levitra? We typically needed to plan our intimate times at least an hour in advance for Levitra to take full effect. If the Pulse worked without a pill, I hoped we could be more spontaneous – and it wouldn't tire my wife!
I received the Pulse II Solo and easily understood the controls. The USB charger worked well and had a full charge in just a couple of hours.
The first time using the Pulse, I took Levitra and allowed it to work. Then my wife and I tried using it to stimulate my erection. The vibration felt very good but was numbing after a few minutes. We then tried the pulsation patterns. These were better because the patterns of pulse and pause allowed for less numbing. The vibrations felt good, but did not lead to orgasm. However, we did continue and had intercourse after we played around with the Pulse II, so the stimulation was helpful.
One issue was that I needed to move the Pulse II around to keep the vibrations focused on the right area. I was hoping that it would provide vibrations and my wife could just hold it in a good position and it would work its magic, but it needed more repositioning. The other issue is that this unit is loud. I think that put us off a bit. We have vibrators, but they are much quieter.
The next time, I tried the Pulse II alone, without taking Levitra. It gave
me a good erection. After a bit of trying different pulse patterns and moving it to keep it in the right spot, I had a satisfying orgasm. I find it
easier to work holding it myself because I can more easily move it to control the response. I found that the pulsing patterns were very helpful with keeping it from numbing me the way continuous vibration did.
Based on the way the Pulse gave me an erection without Levitra, I feel confident that we'll be able to use it for partner sex as a means of stimulating me to erection without medication. And it is definitely good for solo sex. We will continue to explore its capabilities!
* * *
Many thanks to  Hot Octopuss for the prizes! Please support them by checking out their website and ordering your Pulse II from them directly if you decide you want this guybrator on your team. Thank you, Boone, Jeff, and Tom, for your detailed and thoughtful reviews. I know you'll help others.  Pulse on!


12/18/16 update: Read about the new Pulse III on my 2016 Holiday Gift Guide for Seniors!