Review of DiGiT by Hot Octopuss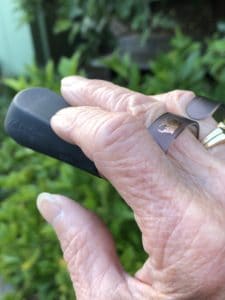 "Show Bad Sex the Finger!" Hot Octopuss exclaims. Yes, there's a new Hot Octopuss vibe in town, the DiGiT vibrator that you wear on your finger. This  delightful vibrator is designed especially for clitoral stimulation during partnered sex, or solo, or both. It's also a delight for penis teasing, nipple stimulation of any gender, and arousing any body part that likes a small, smooth, vibrating finger extension. It's tiny and light enough to be a travel companion.
DiGiT is made to be worn under a finger, attached by a main finger loop and another curvy finger holder. The diagram on the website indicates that the main loop should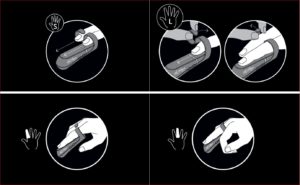 be worn around the middle finger of  a larger hand or around the index finger of a smaller hand. My experience was different. I have tiny hands, and I found it awkward to control with my index finger. It was much easier, defter, and more comfortable on my middle finger, with the curvy part on my fourth finger. Experiment — there's no wrong way to use it.
The vibrations are rumbly, which I prefer, rather than buzzy, which I usually find in a vibrator this small. The design is sleek and modern, and although the DiGiT wouldn't be mistaken for jewelry, it also doesn't scream "SEX TOY!" Use water-based lubricant for a smooth feel.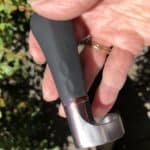 I almost titled this review "Lube on My Glasses." Here's why. DiGiT has indented ovals on the side to press to increase or decrease intensity.  But  there's no way to tell by touch which indented oval increases power and which lowers intensity! You  can't tell by feel — the two ovals are exactly the same. You can't even tell by putting on your reading glasses (hence the lube on my glasses) and peering. Again, the two ovals are identical. Come on, Hot Octopuss, you could have given the "up" and "down" a different texture, a different shape, a different size, or at least a raised "+" and "-" as most vibrators do! As it is, you'll need to memorize that "stronger" is the oval farthest away from your hand. (Or is it the other way around? Kidding — I've memorized it by now.)
Recharging is easy-peasy. Push the charger (included) pointer into the hole, plus the other end into a USB port, and you're set.
All in all, I think the DiGiT is a fine addition to Hot Octopuss's innovative collection of orgasm tools, especially for travel. It's tiny, weighs nothing, yet delivers a lot of power. Please check it out! Thank you, Hot Octopuss, for sending me the DiGiT in return for an honest review.