2018-2019 Favorite Sex Toys for Seniors
Are you looking toys for senior sex? Do you want to spice things up in the bedroom?
In May 2017, I presented a lively 90-minute webinar, Sex Toys for Seniors, which includes a show-and-tell of about 20 favorite vibrators and other sex toys. I introduced you to the Magic Wand, the Eroscillator, and many well-known and lesser-known (but fabulous!) orgasm-inducers.
Viewing rights to the recording are still available, and I hope you'll watch it. Since then, I've had the delight of  reviewing a few more stellar sex toys that would have been included in this webinar if I had enjoyed them sooner.
For your pleasure, here is a round-up of sex toy favorites that have crossed my path (and other places) recently.  Shamus MacDuff, my penis-owning reviewer, has also added his favorites.  Click on each product name to read our original reviews. These include links to retailers that I personally endorse because they care about our sexual pleasure, education, and health, and they celebrate my message that sexual pleasure is ours lifelong.
Best for Versatility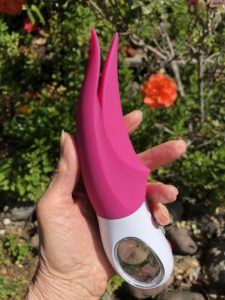 Volta from Fun Factory is delightfully versatile, powerful, and ergonomic. The curved shape and vibrating tips (I think of them as "flippers") can give pleasure to all varieties of genitals in many ways:
Nuzzle a clitoris by surrounding the glans (protruding tip of the clitoris) with the flippers.
Rest the curve of the Volta over the vulva for all-over stimulation.
Separate the flippers to vibrate the clitoris and the vaginal entrance simultaneously.
Cuddle or circle around the head of a penis.
Stroke the shaft of a penis with the flippers during fellatio.
From Shamus MacDuff:

My favorite toy for partner sex enhancement is Volta (a.k.a. "Flipper," or "The Cuttlefish with Attitude"). Not only does my woman friend find it pleasurable when applied to her clitoris, but I also enjoy its "kisses" when she buzzes it against my frenulum, penile shaft, and scrotum while thrilling me with her skillful fellatio.
Best for Penises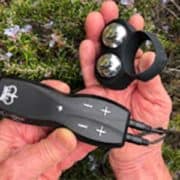 JETT from Hot Octopuss gets the vote from  75-year-old Shamus MacDuff. He loves the way he can adjust the "dual engines" (independently controlled treble and bass vibrations). As he puts it, "JETT has an expandable, circular silicone sleeve positioned directly above the dual jet engines into which you place your penis — flaccid or erect. The sleeve surrounds the frenulum on one side and the ridge atop the penile head on the other. When JETT revs up, the sensations are multiple and magnificent. The real fun with this toy comes (pun intended) in locating precisely the right treble and bass frequencies, paired with one of the 10 vibration patterns, that launches you into the JETT stream."
From Shamus MacDuff:

I especially love JETT for solo sex because it's easy to load my penis into it, flaccid or erect; the accessible controls make it simple to turn on and off and to change settings; and the wide variety of settings, coupled with adjustable, bass and treble intensities, allow me to dial up a  perfect combination of sensations to match my particular mood or arousal level.
Best for Traveling with a Vulva
We-Vibe Touch. The We-Vibe Touch has become my favorite travel vibrator. It's tiny, weighs almost nothing, yet it's powerful and versatile, and the design is so smart.  It's curved to cover much of the vulva for all-over stimulation, or press the cupped area over the clitoris, or point the tip wherever you want it, or combine any or all of these.
The Touch is fabulous to use on the clitoris during partner sex as well as solo, because it doesn't get in the way of two joined bodies. If you enjoy penetrative sex and need extra clitoral stimulation for your journey towards orgasm, this makes it easy and sweet. Add it for extra clitoral stimulation whatever kind of sex you might be enjoying — penetrative or not.
Although designed for vulva /clitoral stimulation, it's also enjoyed by penises and nipples of any gender. See why I love to pack it in my carry-on suitcase?
Best for  Traveling with a Penis
Pocket Pulse. We love all the Pulse models from Hot Octopuss because an erection is not required for use or receiving full pleasure. Just place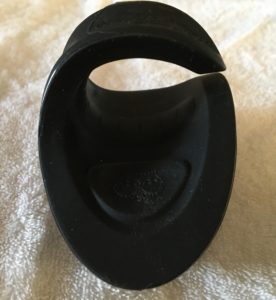 your penis of choice — hard, flaccid, or in between — in the Pulse, turn it on, and feel the results. The Pocket Pulse is a smaller, modified version, and Shamus MacDuff likes it even better than the bigger, more expensive models. The Pocket Pulse is an ideal travel companion for your penis.
Don't forget about lube!
All these orgasm-inducing products are made of silicone, which require water-based lubricant. I've been enjoying the water-based lubes from Wicked Sensual Care. We all have different needs and preferences, but my personal favorite Wicked water-based lube is Aqua Chill which resists body heat for a lovely sensation. If you've been frustrated during extended solo sessions with your vibrator because your lube dries out before you're done, Wicked's Toy Love is a thick and long-lasting gel, and it doesn't dribble off your toys.