Posts Tagged 'non-monogamy'
Opening Up by Tristan Taormino
Reviewed by
Mac Marshall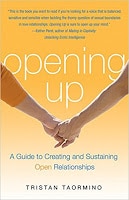 I'm a heterosexual man in my early 70s who's spent my entire adult life in two monogamous marriages. My wife died recently, and suddenly I found myself a widower embarked on a voyage of self-discovery while adrift in a tumultuous sea of relationships. I don't wish to remarry, but I definitely do want sexual intimacy and joyful connections with women. How to find these?
I've discovered Tristan Taormino's Opening Up: A Guide to Creating and Sustaining Open Relationships. Her book provides a wealth of helpful background on the full range of non-monogamous relationships, and is at once both informative and inspiring.
Taormino covers all genders in all combinations with many examples. She discusses the myths surrounding monogamy (myths I understand only too well), the pros and cons of open relationships, and the range of such connections from partnered non-monogamy to swinging, to polyamory, and polyfidelity. All of these styles of non-monogamy share the basic premise that "one partner cannot meet all their needs and they may want to have sex or a relationship with someone other than their current partner." Instead of hiding it, they "bring this fact out into the open."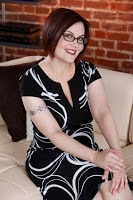 Tristan Taormino
Taormino emphasizes that open relationships only work when these significant elements are present: self-awareness and self-discovery, mutual consent, good communication skills, clear boundaries, honesty, trust, fidelity, and commitment. She addresses issues of possessiveness, control, and jealousy—widely associated with monogamy—emphasizing the importance of relinquishing and overcoming these for non-monogamous relationships to succeed.
She devotes an entire chapter to the idea of compersion as the flip side of jealousy: "compersion is taking joy in your partner's pleasure or happiness with another partner." Taormino notes, "Jealousy is a learned behavior. The first step to achieving compersion is to work on unlearning jealousy—letting go of feelings of insecurity, possessiveness, and fear." While compersion may not be crucial to a functional open relationship, she argues that it is "bound to enhance your relationship."
I have sufficient self-insight in my 70s to recognize that non-monogamy offers me a path forward toward sexual closeness, non-possessive happiness, and mutual commitment without the encumbrances of marriage and exclusivity. My challenge is to find others who share this perspective and who possess the requisite maturity, self-awareness, communication skills, and commitment to honesty to make a consensual non-monogamous relationship work. Like me, I think that others of you will find Taormino's Opening Up of great help in charting a course as we venture forth on this journey.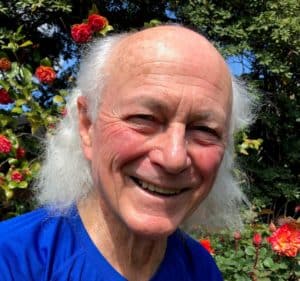 Mac Marshall, PhD is a retired anthropology professor, researcher, and author who is delighted to explore sexuality studies at this time of his life.
I'm recovering from ankle-replacement surgery* and watching far too much TV and far too many films. Why is it that mainstream TV shows and films never show ethical, consensual non-monogamy as a relationship choice that works for many? We only see sexual exclusivity as the gold star of relationships, and when someone strays from the monogamy agreement, love turns into hurt and hate — almost never into a renegotiation of what the couple wants the relationship to be going forward. (Showtime's "Masters of Sex" is the only exception that I can think of, and it's not mainstream.)Don't get me started on how rarely we see older-age relationships portrayed in any way other than traditional, if they're portrayed at all! Even the new Netflix series "Grace and Frankie"  made me cringe at the stereotypical portrayal of older people and relationships. Yes, the men came out as gay and in love with each other instead of their long-time wives, but even they lapsed into spats and pain when it came out that one of them had either a past one-night stand or a last-night tryst with his ex-wife. Why not just say, "Yeah, these things happen and will happen and because I love you, I'll work to understand and accept — let's talk"?And the sweet, vulnerable, free-spirited, hippie Frankie played by Lily Tomlin?  Why isn't one of those cute, ex-convict artists emerging from her bedroom from time to time? (I have to say that as much as I'm dumping on this series, Frank Waterston is wonderful and adorable and the sexiest person on the show. He'd be welcome in my house anytime.)
Back to reality: sex therapists, researchers, and educators know that the sexual exclusivity model works for some but not for all. For others, ethical and consensual non-monogamy (which isn't cheating, because both partners agree to it) keeps many relationships strong. Pioneers like Esther Perel, author of Mating in Captivity: Unlocking Erotic Intelligence and TED talk speaker on "Rethinking Infidelity," and Christopher Ryan and Cacilda Jetha, authors of Sex at Dawn: How We Mate, Why We Stray, and What It Means for Modern Relationships, have done brilliant work demystifying the causes and effects of infidelity and whether human beings are monogamous creatures.
My favorite podcaster, Dan Savage, talks about this often. He coined the term "monogamish" to describe couples who are committed, intimately bonded, and who sometimes have sex with others. The partner might want to know all the details or might not want to know anything, depending on the couple's agreement. Savage also says that when a couple has a monogamy agreement — no sex with anyone else — and one of them strays once in a while, the strayer is doing "a pretty good job at monogamy."
Please don't misunderstand me — I'm not "promoting" non-monogamy or any sexual lifestyle. I'm just saying that I know many couples who stay together happily and intimately because they acknowledge that sexual exclusivity is not right for them. Let's not judge them or say (as I've heard some people righteously insist) that they "don't know how to be committed to another person."
Those of you who are in consensually non-exclusive relationships, especially after age 50, I invite your thoughts here. Was this always the kind of relationship you wanted? Or did you come to it because you tried to embrace monogamy and it didn't work? I hope you'll share your views and experiences. (If you have trouble posting a comment, please email me and I'll post it for you.)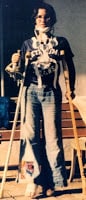 * In case you're curious about my surgery:I was in a near-fatal auto accident in 1979, which, among many other injuries, shattered my right heel and crushed my ankle. For the past 36 years, I've walked and danced on an ankle that barely moved and often caused pain. I sometimes described my foot as "a block of wood with nerve endings." I am extremely fortunate that now a reliable procedure is available that replaces a damaged ankle with a new, mobile one! I had the surgery in November, and I expect to be back on the dance floor in February!