Posts Tagged 'senior sex sites'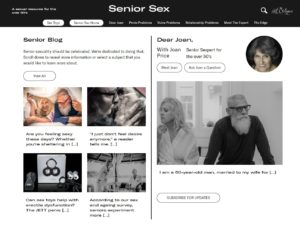 I am thrilled to announce this collaboration with a company I've admired and endorsed for years. Read what Hot Octopuss has to say about our Senior Sex Hub. — Joan 
Sex is Back!
-Over 50s rejoice-
Leading sex toy brand Hot Octopuss brings sex for the over fifties back to the fore with the launch of their Senior Sex hub with the help of 'Senior Sexpert' Joan Price
Sex is back! (*well actually it seems it never went away!). Contrary to popular belief, sexual intimacy and enjoyment is alive and kicking amongst the over 50's. A recent article by USA Today states that "Many adults aged 65-80 are having sex (and most are pretty satisfied)", the article goes on to say, "Sex is not just for the young: 40% of U.S. adults aged 65-80 say they are having sex — and even more of them, 73%, are satisfied with their sex lives", the highest satisfaction rate out of any demographic.
A topic often side stepped, it turns out that this demographic is really into sex, so much so that award-winning, London-based sex toy company Hot Octopuss has decided to embrace this by launching a dedicated hub specifically designed to offer these sex positive seniors a sexual well-being destination dedicated to their specific needs.
Leading the charge and directing Hot Octopuss at every turn is world renowned "Senior Sexpert" Joan Price, internationally acclaimed advocate for ageless sexuality, award winning author and now, in-house senior sex expert and ambassador for Hot Octopuss at www.hotoctopuss.com/seniorsex.
Joan comments,
It's about time that senior sex is brought out of the shadows and who better to do this than in my opinion, the world's most progressive and inclusive sex toy brand, Hot Octopuss. I'm delighted to be partnering with Hot Octopuss on this exciting project and with my own dedicated "Dear Joan" page, I will personally be there to offer candid advice to fellow seniors https://www.hotoctopuss.com/senior-sex/who have specific questions about better sex. From hot solo senior sex, to arousal and orgasm, or communicating better in a long-term relationship, no subject will be off-limits.
As well as having the chance to receive candid advice from a world leading expert, the hub's focus will be on providing a one-stop-shop for everything senior sex, providing in-depth coverage of topics such as post-menopausal sex, sex with ageing penises and vulvas, ED, arousal, orgasm and masturbation, as well as offering sex toy tips, suggestions and senior reviews.
Hot Octopuss Co-founder Julia Margo explains,
The sexless seniors stereotype is so outdated and simply untrue. A fifth of the toys we sell on our site are bought by customers aged 55 or over. This, along with my own experience talking to older customers and senior sex experts over the last nine years at Hot Octopuss is that information and tools addressing issues such as menopause, stiff joints and erectile dysfunction can make all the difference to an individual's sex life as one gets older.

Unfortunately, few sex toy companies discuss any of this, or represent older people in their marketing, which contributes to the misconception that the information is unwanted, whereas this couldn't be further from the truth. We want to do things differently and understand that no matter how old you are, you are never too old to enjoy a fulfilling sex life. We are really proud to be working with Joan on the launch of our 'senior sex' hub to give all our older customers the very best in advice, so that they can continue to enjoy the sex life that they want and deserve throughout their lives."
The Hot Octopuss Senior Sex hub and Ask Joan pages launch on 5th May 2020.
About Joan Price
Joan Price is the author of four books about sex and ageing, including the award-winning Naked at Our Age: Talking Out Loud About Senior Sex and her latest, Sex After Grief: Navigating Your Sexuality After Losing Your Beloved. Joan is known by global media as the voice of senior sex. Her blog has been offering sex news, views and reviews since 2005. Aged 76, Joan continues to talk out loud about senior sex, partnered or solo.
Founded in 2013, this award-winning, London-based brand designs innovative, cutting edge sex toys that not only look gorgeous, but are designed to work with the body. They passionately believe that pleasure is a fundamental right for everyone. Their sex toys have been taken back to the drawing board, and are developed using real people, some serious science and ingenious designs. Their collection of unique toys have been designed for everybody so whether you're cis, trans, non-binary, have limited mobility or are older, there's a Hot Octopuss toy to suit.