A Love Letter to Aging Bodies and Faces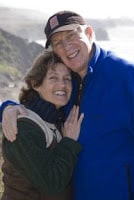 Do you think aging has made you less attractive? Do you have difficulty seeing yourself or your partner as sexy and desirable?
Then it's time to challenge your own as well as society's perception that only young bodies and unlined faces are sexy and beautiful. We need to accept – no, celebrate! – our wrinkles and rejoice in all the pleasure these bodies can still give us.
Let's join together and practice rejecting society's youth-oriented view of beauty, keeping ourselves fit so that we feel happy with our bodies, and keeping a loud, buoyant sense of humor!
I love my 71-year-old husband Robert's face and body. I look into his vibrant blue eyes and I see the young man as well as the older man. The older man is no less sexy than the younger man must have been (I didn't know him then). In fact, he's more sexy, because he has learned how to live joyfully and love completely in ways that a young man can't know until he has lived a full life.
I look in the mirror, where new wrinkles seem to appear weekly. I try to walk my own talk, accepting my own face as I accept Robert's, telling myself these wrinkles are badges of living, laughing, and loving. I tell myself, this is the youngest I'll ever be from now on!
I asked my 103-year-old great aunt what it felt like to be more than a hundred. She said, "I'm the same person I always was."
So are we. Rather than trying to deny our aging — which is futile anyway — let's celebrate it.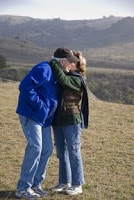 (Photos by Mitch Rice, Robert's son, on Robert's 71st birthday)