Discoveries Helping Me Move Through Grief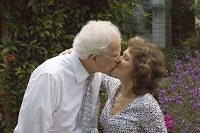 Robert died three months ago today. Although this post has nothing directly to do with sex, so many of you have sent me compassionate emails that I'd like to share what I wrote to my online grief support group today:
I've been working hard at finding ways to create some semblance of balance and — dare I say it? — moments of joy in my life amidst the powerful grief that comes in waves and knocks me to the ground. I'd like to share some things that have worked for me, just in case any of them might be useful to some of you. Feel free to add to the list if you have something to share that has worked for you.
Problem: Out of control crying had reduced me to a crazy, quivering mess and sometimes lasted days without a break, intensified by not being able to sleep for more than 2 hours at a time. I felt physically and mentally ill from the ravages of grief.
Solution: Doctor prescribed an antidepressant (for "situational depression" for six months), a sleeping pill, and a counselor. The combination has brought me indescribable relief. I still grieve and sometimes feel like I'm pedaling through peanut butter, but at least the elephant has stopped kicking me in the chest and stomach.
Problem: I knew journaling would help, but my writing fingers felt paralyzed for the first two months — did I write memories of Robert and talk to him in my journal, or did I write about ways I was trying to move on? The two seemed to cancel each other out.
Solution: I started TWO journals. In one, I write to Robert and remember the special things he/we did and said. In the other, I write about my steps towards creating a new life: making new friends, insights from counselor and friends, little things that make me happy, if only for a minute. This has worked splendidly — I write in one journal, then switch to the other.
Problem
: Morning ritual was so special. After wonderful snuggling, Robert would say, "I'm going to make you coffee." He would get up, bring me the morning newspaper and coffee in bed. I would share something from the paper that might interest him, and sometimes he would just sit and watch me lovingly as I read, or he would go out to tend his garden. He painted a special bell (he was an
artist
) for me to ring when I wanted a coffee refill. It was a glorious and loving start to the day, and without him, mornings felt so empty.
Solution: Replace missing ritual with new one. I cancelled the newspaper subscription (don't even miss it). Now I get out of bed, make my coffee the way he used to, but I bring it to my favorite chair that looks out on the yard and I write in my journal while I sip.
Problem: My world was Robert. I did much independently, don't get me wrong, but he was the one with whom I walked , danced, went out to dinner and films, talked about everything.
Solution: I reached out to old friends and made new ones. I thought about people whom I liked and would like to know better. Several had extended invitations to me, but I wasn't ready. I contacted them and made walking dates and coffee or dinner dates. Now I have people I can do things with, and they understand when I get tearful.