First anniversary of Robert's death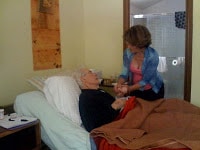 "Will you be able to say goodbye when it's time?" I asked Robert softly, holding his limp hand in both of mine.
I couldn't tell if he was thinking about his answer, or drifting in and out of consciousness, or even if he had heard me.
"No," he said finally, without opening his eyes.
It was a few days before Robert died last August 2, and we both knew he was close to the end. Hospice — such wonderful people! — kept him painfree as his bones deteriorated and his body processes shut down. He drifted between asleep (or unconscious) and half-awake, sometimes painting in the air with his fingers, sometimes thinking it was time to go to dance class or out to lunch (though he hadn't been out of bed or eaten for a week), occasionally jumping into clarity for a few precious moments.
As Robert's cancer progressed, I felt trapped in a nightmare that I couldn't escape or rescue my beloved Robert, who was slipping away from me day by day, hour by hour.
Now, though, I am grateful that I was able to share this profound transition with him. I learned a lot about death that I never knew, never imagined. I also learned how love wins somehow, even at the end. Robert was rarely conscious over the last few days, but when he was, he murmured love to me.
Thank you, readers, for sharing with me the exhilaration and sensuality of our great love affair and far-too-short marriage. It feels right to share this part with you, too.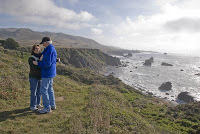 (Photos by Robert's son, Mitch Rice. Thank you, Mitch.)