Put Your Head on My Shoulder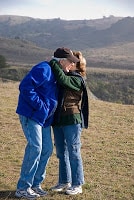 12/14/10 update: I wrote the memory below last March 7, first in my personal journal, then as a blog post.
Later on, working on the last chapter of Naked at Our Age, I realized it also needed to be the ending of my book.
Today, I was finishing proofreading the designed pages that Seal Press sent me and simultaneously struggling to figure out how to make today — which would have been his 74th birthday — special.
As soon as I read this memory at the end of the book, I decided to share it with you again:
Put Your Head on My Shoulder
One day I was rushing about, I don't remember for what, maybe preparing for a trip. I was stressed, crashing about, full of nervous energy. Robert caught me in mid-flight, taking my hand. "I'm so busy," I protested.
"Just for a minute," he said quietly, leading me into the living room.
He switched on the CD player, and Michael Bublé began to sing, "Put Your Head on My Shoulder." Robert enveloped me in his arms and began to dance me around the floor. My body melted into his strong embrace and his graceful rhythm. I started to cry, feeling his closeness and knowing that nothing was more important than holding this man I loved in my arms. I continued to sob, and he didn't need to ask why. He just cradled my head into his shoulder and kept us dancing.
I don't remember what I was rushing to that day, but I do remember every moment in Robert's arms, the feel of his chest against my face and his body leading mine until our rhythms melted into one being. Yes, just like making love.
I would do anything to dance in his arms again. I narrate this special moment to remind you to stop, take time with your lover if you're fortunate enough to have him or her with you, and never take for granted that there will always be time later on. Now is all we have. Treasure each other.