Ron, age 66: "Ladies are sooo inventive!"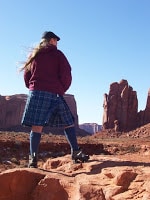 I love getting reader stories, and Ron, age 66, has opened my eyes to the adventures of a remarkably open and sexually active man who is enjoying his single life tremendously. Of Scots heritage, Ron enjoys wearing kilts "for their obvious freedom and comfort and fun." He illustrates:
Dating a lady my age, we're out for lunch at a chain restaurant sitting in a booth and suddenly her bare feet are under my kilt lovingly massaging my boy parts. No one can see. We know. Ladies are sooo inventive."
Ron does a lot of online dating, and enjoys women our age.
I have met a lot of wonderful women. Despite the protest on the Internet profiles, a common first date includes making love at the lady's initiative. Most often I'm the boy toy and they want to use my body for their own pleasure. I think its wonderful.
Since there are more single women than men of our age, Ron has a concept of the ideal retirement community which includes "man sharing":
What if say three lonely ladies got together and chose a compatible man to share an nice large home with. Share the rent, share the chores, share the love. Seems it would sure beat living alone. I'm sure someone's way ahead of me on this. Gotta be happening already. For the longest time I thought of it as something I, as a surviving male would do – go out and find three women who would be up for such an arrangement. Lately, I've realized such a group would be better formed if the ladies bonded first then sought out the male to share together.
Ron's satisfied lovers already pass him on to one another:
Looking back over my lovers since my divorce there have probably been seven or eight who were "referrals" from previous lovers. Its probably a woman thing that I don't understand – but deeply appreciate.
What do you think? Men, do women "refer" you to their friends? Women, if you date a man who leaves you with a smile on your face, do you tell your single friends to get in touch with him? Though I have no direct experience with this, I must admit it's an intriguing idea!
Thank you, Ron, for your willingness to go public with your story!