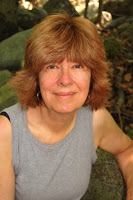 Rae Padilla Francoeur
"It takes intention to keep movement and sexuality in our lives," Rae Padilla Francoeur quotes me as saying in her insightful, sensitive, and generous profile, which she titles "Life lessons from a senior sexpert."
Thank you, Rae, for the most amazing birthday present.
I love how Rae combines three parts of me that define who I am: my commitments to senior sex education, physical fitness, and endless learning. She captured my drive when she wrote about my recent trip to New York City, when I had the pleasure of staying with her and her love Jim,
The only time you weren't working or making connections with others throughout the city was when I was talking or when you were sleeping.
Rae's profile is such a heartfelt tribute that I want it read at my memorial service (not soon, please) and printed on a t-shirt.
I expect it would have to be in small print to fit on a t-shirt, especially my petite size, so I'm picturing grey-haired gents putting on their reading glasses and getting close to peer at my chest–a pretty nice fantasy for my 68th birthday today!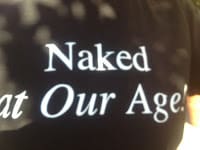 Speaking of t-shirts and chests, Rae and Jim gave me this "Naked at Our Age" t-shirt. At the time I took this photo, I was sitting outside a coffee shop in Ventura, CA, where I was visiting to present two workshops. I discovered that three men were staring at me. Flattered, I smiled and they looked away. Later I realized they were probably just trying to figure out what I meant by the message on my shirt.
If you're not familiar with Rae's work, I encourage you to read her erotic memoir, Free Fall: A Late-in-Life Love Affair. I reviewed Free Fall in 2010 before I knew Rae personally. Our admiration of each other's work led to a strong friendship.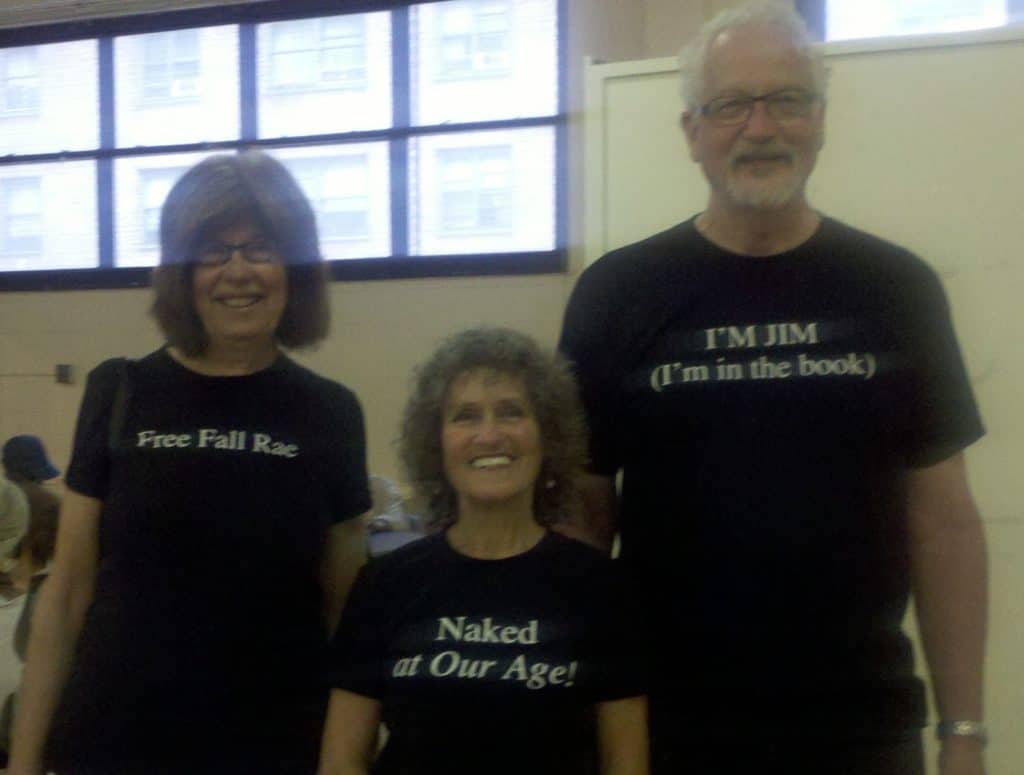 Rae, Joan, and Jim Hicks