Older women wear lingerie
11/10/2011 update: I did a second lingerie shoot, as I was about to turn 68. See it here.
10/23/2011 update: My goodness, two years after I originally wrote this post on 10/11/09, it continues to be the most often read! Hmmm. Ruth and I are actually planning an update — a new photo shoot this week, results to be posted as soon as they're ready. My reasons are maybe the opposite of what you might think: No, I'm not fixing to show off a youthful body. Rather, I've aged a lot in the past two years, have stopped coloring my hair, and want to celebrate my authentic self by re-doing this photo shoot. Yes, I'm nervous. Of course I am. But if I keep insisting that we should stand up for what's real at this age and celebrate our aging process, then I have to walk (or pose) my talk .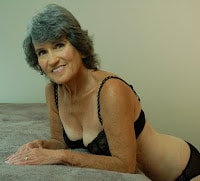 "I'm photographing
real women
in lingerie," Ruth Lefkowitz of
Ruthy's
Real Meals
told me. "Would you be willing to model?"
Wow. A "real woman" I am, all 65 years of me, and I do love lingerie, but I've only worn it for intimate hours, not a photography session.
I'm not shy, I just don't think my 65-year-old body looks as good as it used to. But whose does? And if you can't do something new and outrageous as an older person, when can you do it? "Sure, Ruth!" I said. "And if I love the experience, I'll blog about it."
I loved the experience.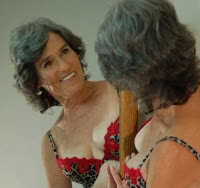 The wonderful people at
HerRoom
were happy to provide some lovely garments and were enthusiastic about a woman my age modeling them.
We met in a garage converted (roughly) into a photography studio. Ruth made me feel comfortable with her relaxed, matter-of-fact approach to posing me and complimenting me. We had many giggles, too.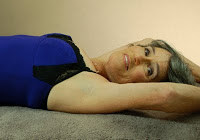 Ruth was exuberant about what she called my "curves," and when I expressed alarm that the sags, folds, and puckers would come to light, she reassured me that she was there to capture the beauty in real women.
By golly, I think she did it.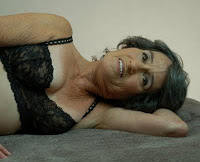 —–
Photos by Ruth Lefkowitz. If you live in or near Santa Rosa, CA, and would like to be photographed by Ruth, please
email me
and I'll put you in touch.
Lingerie provided by HerRoom Lingerie We Buy For Ourselves