"Outstanding Self-Help Book" says ASJA about Naked at Our Age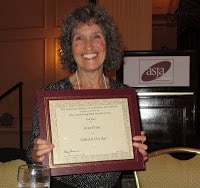 Photo by Dorri Olds
I wrote in an earlier post that Naked at Our Age: Talking Out Loud about Senior Sex won the outstanding service (which means self-help) book award from the American Society of Journalists and Authors (ASJA), the nation's professional organization of independent nonfiction writers.
Last night, I received the award in person at the ASJA conference in New York City.The award was introduced with these quotes from the judges:
Naked At Our Age: it's a disarming title, so appropriate to a topic that's often ignored — senior sex. Forget "don't ask, don't tell." Joan reached out to older men and women, straight and gay. Boy, did they ask, and wow! did Joan tell.
Joan is a recognized sexuality expert*, so of course her book provides educational and heartfelt advice about sex (including some very personal and moving reflections).
If you're thinking, "been there, read that," think again. Joan isn't afraid of opening the reader's mind about how to think and talk about sex. The book is comprehensive — if you've ever thought about it (even in your best dreams), you'll read about it here. Prepare to be educated, surprised, or sometimes shocked.
We're pleased to honor Joan with this ASJA award.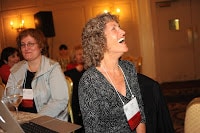 Photo by Mark Bennington
*The big laugh of the evening came when the presenter misread "expert" as "subject," saying "Joan is a recognized sexuality subject" — which sent everyone into gales of laughter, including me! Photographer Mark Bennington captured my reaction!
Then I gave a short acceptance speech, which I'd love to share with you here:
It is a profound honor to receive this award from my ASJA peers – the writers I read, respect, and sometimes envy!
Many of you longtime ASJA members knew me for decades as a health and fitness writer. What happened to morph me from rah-rah-fitness-is-for-everyone to preaching and teaching the pleasures of older-age sexuality?
Writing has always been an avenue – maybe call it a running path – for following my passion. I became a high school English teacher to be the teacher I always wished I had. Then in 1979, my daily fitness habit saved my life after a car crash – my heart was strong enough to go on automatic pilot while I waited for help, smashed and bloody – so I became a fitness writer and, once I could walk again, an aerobics instructor.
So it was natural that when I fell in love at age 57 with a man who was 64, I turned my writing to senior sex. Our profound and spicy love affair became the inspiration for the book I wrote at age 61, Better Than I Ever Expected: Straight Talk about Sex After Sixty, to celebrate the delights of older-life sexuality.
I started calling myself an advocate for ageless sexuality. The media called me "senior sexpert" and "wrinkly sex kitten" – I'm still trying to grow into that one.
Many readers, however, wrote me to call me "wrong." They told me that they were not having great sex lives. 150 readers sent me their stories and their questions. I realized that finding answers for them needed to be my next book, my most important book.
I didn't know the answer to every question, but I knew the experts who did, and I assembled 45 of them to write tips and answer reader questions. The stories and the expert tips, along with my candid commentary, became Naked at Our Age: Talking Out Loud about Senior Sex.
This book means the world to me both professionally and personally. Robert, my lover who inspired my senior sex writing and who became my husband, died when Naked at Our Age was a book proposal. Writing it was my way to paw my way through grief and re-commit to my mission to help others through my writing.
Not usually at a loss for words, I don't know how to express how much this award means to me. Thank you.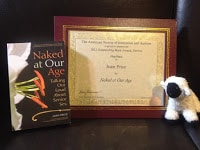 Thank you, Dorri Olds and Mark Bennington for permission to use your photos here.
If you'd like to purchase Naked at Our Age from Amazon, here is the direct link.