Lelo Smart Wands: for massage or… ?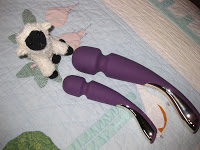 The new LELO
Smart Wands
are truly gorgeous — deep, rich plum (or black if you prefer), sensuously curved, vibrating wands made of silicone with gold-colored accents on the handle. They're sleek and almost too beautiful to hide away between uses. But "smart"? How is that supposed to work? Read on.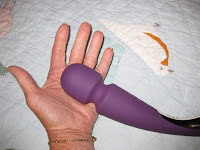 Lelo offers two models: medium and large. I was eager to test the large
Smart Wand
which promised the most intensity, but while
Good Vibrations
waited for that model, they sent me the medium size.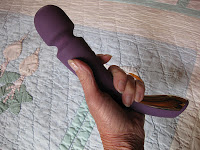 Beautiful, gift-worthy, art-quality wand, to be sure. But not nearly strong enough for me. It's pretty weak, actually.
Now you may not need the vroom-vroom-vroom power intensity I do for clitoral stimulation — in fact, many of you are downright scared by the intensity I describe in my favorite toys. If  you like subtle to medium intensity, you'll likely love this pleasure object.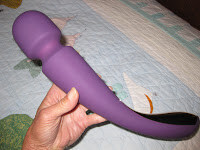 If, however, your sensations need extra power to fire, go for the big one! I was happy when I received the big guy for comparison.
The large model is about a foot long and weighs almost a pound. (The medium is about 8″ long and weights just under 6 ounces.) The large head sends vibrations to the whole outer vulva, which I like, not just the clitoris — though I know that some women prefer being able to pinpoint  the clitoris.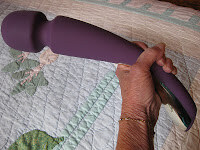 Some reviewers have complained of hand numbing between the vibrations all the way from head to handle and the heaviness of the wand, but you really don't have to tax arthritic wrists by holding it in the air or holding it at all. Thanks to the ergonomic styling, you can aim the rounded end where you like it, and barely lift the length of the wand  to keep it there. So don't worry when it feels hefty when you lift it.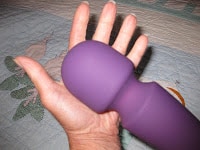 Given the size — in both length and head size, similar to the Hitachi Magic Wand — I thought the vibrations would be similar in intensity to the Hitachi. No, nothing is similar in intensity to the Hitachi, sorry. But if you don't need Hitachi power (and  huge crowds of women do not, even at our age), this is an elegant alternative.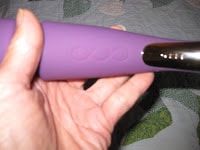 Why the "Smart" appellation? You can choose among eight vibrational patterns manually by pressing buttons — or you can hold down the pattern button to activate "SenseTouch" which automatically goes to 100% intensity when the wand is pressed to the body. Take it away from the body (why? a phone call? a break?) and it whirs down and waits on low. I honestly don't know how valuable this feature is. I tend to just crank it up to maximum intensity and keep it there, no need for a break.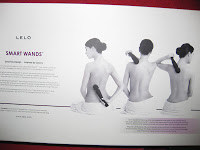 Oh! I get it! The "SenseTouch" is for giving a "real" massage (without the "wink wink")! Of course, you want it to stop when you're switching body parts for muscle relaxation. Whoops. I should have guessed from the illustration on the box. Silly me!
In fact, LELO's own website says it's for "deeply satisfying all-over body massage." Why didn't I think of that? Of course if you're using it for all over body massage, you might have the numbing hand problem. I wonder why it's made with a vibrating handle, since there's no way to use that handle for anything other than holding on. Sex blogger Dangerous Lilly mentioned in her excellent review of the Smart Wands that if you hold the large wand in the middle of the handle (the thinnest part), the vibrations are weakest there.
Like all LELO products, you charge the vibrator (ooops — massager)  for two hours first, then you have no cords to fuss with while you use it. It's quiet and even waterproof! The vibrations are rumbly (which I prefer, personally) rather than buzzy, especially in the large model. Like all LELO products, the wands are made of medical grade materials. They come with a 1-year warranty and a 10-year product quality guarantee.
Whether you decide to enjoy your Smart Wand as a sex toy or a massage tool, I'm sure you'll have many delightful experiences! Thank you, Good Vibrations, for sending me these elegant Smart Wands.