LELO's GIGI: slim, smooth, sensual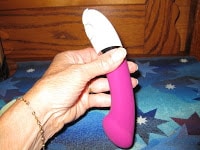 This review was originally written in 2009. I updated it November
2012. GIGI has become a favorite sex buddy, one I reach for
regularly even though I have many dozen to choose from after reviewing
sex toys from a senior perspective for four years!  
Sex-toy designers are catching on to the notion that sexual enhancement products (okay, vibrators) that work best for women's anatomy might not be in the shape of a penis (or dolphin, rabbit, and so on) but rather a design that actually fits the way we're shaped and makes contact with our hot spots most effectively. As we age, our bed buddy also needs to be pleasant to hold for an extended time without inflaming arthritic wrists or burning out before we do.
I've had the pleasure of testing the lovely GIGI "sensual pleasure object" from LELO. The rechargeable GIGI specializes in G-spot stimulation, and indeed the flared shape at the tip easily locates, stimulates, and hugs my G-spot. Great design!
It's also dandy for clitoral stimulation. If you like both, just alternate placement, or use a clitoral vibrator while the GIGI is vaginally inserted — which is what I do. The curved shape makes it easy to keep GIGI inserted and out of the way when you're using another vibrator on your clitoris.
I love the shape and size — not girthy (so helpful for post-menopausal vaginas), shaped for easy insertion, flared for the best sensation. The velvety silicone surface "tugs" a little when you move it in and out, a most pleasurable sensation.
Choose from five intensities/modes, or vary as your arousal
increases. I would have liked just one more, extremely intense setting,
but for the size, it's amazing.
It's also quiet, in case the grandkids are in the next room. The part that
does its magic is available in rose (pictured, though it's not as
shocking a color as my point-and-shoot camera thinks), turquoise, or
"petal pink" to match the decor or your lingerie, or make it easy to find in the toy box. A lovely product!
Use a water-based lubricant. Don't use a silicone-based lubricant with silicone toys — it can degrade the toy and make it tacky.
As you'll see from other recent sex-toy reviews, we now have a swell selection to choose from or alternate, if you like variety. Thank you, designers, and enjoy, dear readers!