Crave Duet: a most unusual vibrator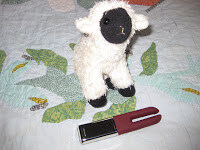 The
Crave Duet
completely surprised me! I had seen photos of this unusual clitoral vibrator and read reviews, so I thought I'd like it — but I had no idea I'd love it.I originally planned to include it in my holiday gift guide 2012, but after testing it, I knew the Crave Duet deserved a complete review.The two-prong shape is the most unique quality of this delightful little vibrator. The dual motor makes each prong vibrate independently, and when the prongs surround your clitoris, it's a wild sensation indeed!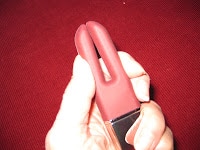 If you like strong, pinpoint pressure on your clitoris, you can pinch your clit with the prongs — they open and close a little bit (do not force it to open more than pinky-width) — if that's what you like.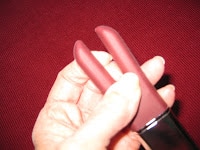 Or, to stimulate a larger area and not pinch anything, you can nest it horizontally between your labia so that the prongs surround your clitoris and hug much of the vulva. This worked for me! This would also work during partner penetration when your clit needs an extra assist.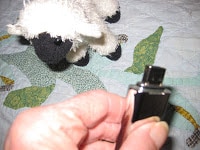 The Duet is also unusual because it charges via your UBS port. Pull apart the silver part from the silicone, plug the USB in, press the center
button, and Duet recharges in an hour or two. No cords or batteries needed ever.You
can buy a version of the Duet that acts as a real flash drive, too, but why
bother? Do you really need to carry your work files in your vibrator?
Before I tried the Duet myself, I read some early reviews. Some reviewers said they wanted to love the Duet, but they didn't because it either wasn't strong enough or, because the prong tips were practically touching,  they pinched their clits uncomfortably in the normal position.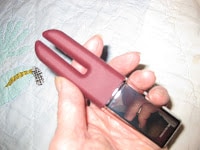 Crave listened to reviewers and customers and resolved these problems admirably in the second generation Duet. Now there's an extra-strong "turbo" setting — which is strong enough even for me! The shape has been redesigned with a wider gap, so it hugs instead of pinches, unless you intentionally close the gap.  (Anyone who bought the first generation may receive a free replacement — now that's customer service.)
One con: The controls at the end of the shiny part are impossible to distinguish unless you're peering at them up close with your reading glasses on. The middle one is obvious: press for off, on, or to change patterns. But the "+" and "-" are easily confused, and you don't want to turn it down when you intend to turn it up.
My suggestion: Start with it on the highest "+" setting you might want, and leave it there, adjusting sensation by pressure. Either that or memorize which side the "+" button is on before you get started.
I don't usually discuss packaging in my sex toy reviews — it's usually a "who cares?" aspect of a product. But the Crave packaging is laudable: instead of a big box with lots of plastic around the product, the Duet arrives in a tiny cardboard box, with a "quick start guide" printed right on the box.
A more detailed user's guide is online, and the URL is engraved on a tiny charm. The charm idea is cute but silly, because you can't attach the charm to the zipper pull of the case (I tried). So you'll probably just lose it unless you wear it on a chain as statement jewelry or put it on a key ring.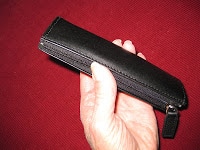 The Crave Duet comes with a slim, discreet storage case that you can fit in a purse, pocket, or laptop carrier, making the Duet easy to carry with you should the need arise before you get home (nothing's that urgent for me these days, but your urges may vary!) or in case you anticipate an interesting date. I'll definitely carry the Duet on my next trip!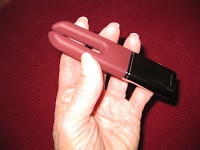 The business end of the Duet is silicone, so be sure to use water-based lubricant with it — not silicone lube. The whole thing is waterproof — just be careful that it's all the way closed so the seam is sealed before taking it into the tub with you or washing it. It's also very quiet!
I hope you'll try the Crave Duet and let me know if you enjoy it as much as I do. Happy buzzing!