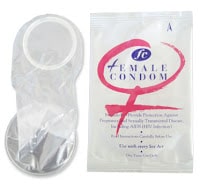 FC2 Female Condoms
Amy, a client of mine, reported, "The condom broke!" twice within a week. I assumed that her boyfriend must not know how to use a condom properly, because condoms rarely break when used properly. He must have been using oil-based lubricant, stretching the condom beyond its limits, putting it on without leave a reservoir space for the ejaculate, or using expired condoms.
Now all of that is teachable, but the boyfriend was not my client.I wanted to put the process in Amy's hands. Years ago, I knew about the "female condom." The original female condom never got much acceptance. As Joan Price wrote, "It was like having sex in a shower curtain."
But the new FC2, second generation of female condom, is a different experience and a great improvement. It is soft and pliable, very easy to use, and made of nitrile, like today's medical exam gloves.
The FC2 condom has many advantages. It . . .
Is very comfortable
Is not constricting
Feels good to both the man and the woman
Warms to the temperature of the body, or more specifically, to the vagina
Can be put on hours before intercourse
Can be left in after ejaculation
Is impervious to oil-based lubricants
Is easy to insert
Aids in stimulating the clitoris for some women.
But the most important advantage from the woman's point of view. . .
It is under control of the woman before she gets involved in the passion of sexual arousal.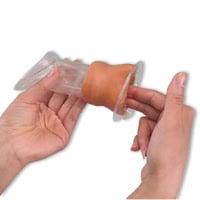 The female condom is easy to use. Insertion can be made a part of foreplay. Some couples make that part of their ritual. It is very hot for him to do the insertion—under her direction.
As we men age, our erectile response may become weaker or take longer. One of the great things about the FC2 is that the man can insert a flaccid penis before working up to an erection.
Strictly speaking, the FC2 is not a male sex toy, but it really can be. A man can use it, and I have, by himself, and find the sensations very pleasurable. One can't say this about the standard male condom. This is not a minor issue.
When the FC2 female condom was introduced, it was pricey, but the cost has dropped. It's still more than a male condom, but not enough to be a problem.
Most drug stores still don't carry the FC2 in stock, but Walgreens does, and others will follow as the FC2 gets more popular. They can also be purchased on-line from many vendors including Amazon.
Make the effort to buy the female condom, FC2, and try it. The FC2 is an excellent help in pleasuring ourselves and our partner while we protect our sexual health. You may never want to go back to the male condom—or, of course, to unprotected sex.
David M. Pittle, Ph.D., is a therapist in San Rafael, CA, who has been helping people
with sexual issues for over thirty years. Many of his clients are age 50-80,
when good sex is important, and dissatisfaction may lead to loss of shared
intimacy that can threaten the total relationship. David specializes in helping
women who are not experiencing sexual satisfaction and men with non-medical and
medically-related erectile dysfunction or other issues. Visit his website here.
Please see Dr. Pittle's reviews on this blog of Hitachi Magic Wand , Vacuum Erection Devices, and Tenga Egg.
(I am sad to tell you that my friend, sex therapist David Pittle died December 2017. We value his sex toy reviews. Read his other reviews here.)