The Ageless Erotica Revolution by Donna George Storey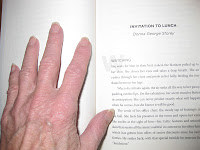 Behind every story, there's a story (and, in this case, a "Storey.") Donna George Storey, who wrote "Invitation to Lunch" for
Ageless Erotica
, shares what it meant to her to contribute to
Ageless Erotica
, and her insights about the importance of this anthology.– Joan
The Ageless Erotica Revolution
I've been publishing erotic fiction for over 15 years, but "Invitation to Lunch," my maiden erotic memoir that appears in Ageless Erotica, is one is one of the most satisfying pieces I've ever written.
Why? Because it has given me the chance to tell the truth about enjoyable sex between two 50-something people who've been married for 27 years.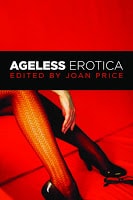 On the face of it, what's the big deal? All memoirs describe real experiences. Yet a careful look at the portrayal of sexuality in our culture shows that positive descriptions of mature sexuality are extremely rare. I've been hesitant to try it myself. Without question, Ageless Erotica will help redress that lack.
However, I believe the impact of this book is even more revolutionary. By busting apart the myths about sexuality for older people, we question the stereotypes that hinder us at every age. Writing erotica is all about steamy images and sensibilities, so I consider it a professional duty to pay attention to the media's presentation of sex. I see three major "acceptable," but limiting, ways to discuss sexuality today.
The most ubiquitous: idealized visual images of gorgeous models and actors in advertisements, Hollywood movies and pornography. These images are invariably tied to consumption of some sort—buy this product and be satisfied like these demi-gods, if only for the moment. How many 20-year-olds can claim to experience the air-brushed,
contrived, and absurdly short encounters so familiar in the visual
media? Even in my supposed nubile prime, I felt compelled to compare
myself to Hollywood perfection and came up lacking.
The "scientific" journalistic report, which tends to focus on social and physical problems, neuroses and diseases. The focus here tends to be on promiscuity in the young and sexual boredom or dysfunction for older married couples.While we're all curious about the latest sex survey or specialist's
view of "normal" sexuality, quantitative and expert measures can never
capture the complexity of our unique personal experience.
Erotica and erotic romance, an extremely popular genre. Yet the majority of these stories are fantasies, standing in stark contrast to what we do in our ordinary lives. While there are hardly any positive images of older people enjoying erotic pleasure in this mix, the sad truth is that there are few positive, realistic images for anyone of any age. Erotic stories can be arousing, but there are limitations to consuming someone else's ideas of what is sexy. Aren't the most powerful sexual experiences fearlessly created from the heat of our own passion and imagination?
Every time someone has the courage to reveal her genuine experience of sexuality in a way that breaks out of safe cliché, she opens the door for others to speak out and look within to define their own truths. There's potential for release from all kinds of damaging assumptions about what sex is for real people.
If you don't have to look like Angelina Jolie and Brad Pitt to have a great sex life, what other lies are restricting us from owning our potential? Do married couples have to grow bored with each other? Must sexy feelings fade after menopause? Is passionate love beyond our reach after 30? Is dewy innocence really sexier than knowing who you are and exactly what you want in bed? Indeed, since we all hope to live long, rewarding lives, what could be more encouraging than reassurance from wise, experienced lovers that great pleasure lies ahead for as long as we desire it?
In "Invitation to Lunch," the couple—my husband and I—play out the woman's fantasy of being watched while they make love. It's probably no surprise that an erotic writer is attracted to the forbidden fantasies of her sexuality being seen and accepted by others. I realize now that this is what Ageless Erotica means to me: seeing and celebrating the honest erotic experiences of all lovers whatever their age, appearance or sexual preference. Let the new sexual revolution begin!
Donna George Storey is the author of Amorous Woman, a
semi-autobiographical tale of an American woman's love affair with Japan. Her
fiction and essays have appeared in numerous places including

Fourth Genre, The

Gettysburg Review, Prairie Schooner, Penthouse, Best American Erotica

, and The Mammoth Book of Best New Erotica.

Read
more at www.DonnaGeorgeStorey.com.

Her story in

Ageless Erotica

, "

By Invitation Only," is based on a recent
lunchtime interlude with her husband of 25 years. Their motto is "you never
stop learning" — especially when it comes to pleasure.