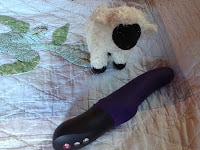 [Sorry, this model is no longer available. See similar Fun Factory alternatives.]
The Fun Factory's Stronic Eins from Good Vibrations is unlike any sex toy I've ever seen/ used/ reviewed. It doesn't vibrate exactly — it moves back and forth. It pulsates. It thrusts (gently — don't expect a jackhammer).
If you shake it while it's turned off, you'll feel a solid weight inside that moves around inside the toy. When turned on, the motor moves the weight which makes the whole thing pulsate in different rhythms, depending on the pattern you choose. Quite remarkable — and wonderful, if you like a gentle thrusting motion in your vagina.
Yes, it really does move like this animation. All by itself. You just insert it, angle it to reach your G-spot, and let it work its magic. You barely have to touch it to keep it where you want it, so although you'll see your whole arm pulsating strangely as you hold it in place using a high setting, you won't feel stress in arthritic joints. At least I didn't.
Here's why you're likely to love it: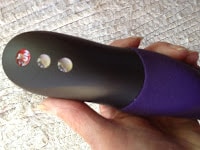 It moves in and out. In and out. In and out.
It's rumbly and throbby rather than buzzy.
It has 10 different patterns and intensities, from dance rhythms ("rumba," "samba," "Viennese waltz") to the strangely named "rattle," "gallop," "dirty dancing," and "roller ball." The controls are easy to find and use — no reading glasses required. (I can't say that about the minuscule font in the instruction booklet, however.)
It's body-safe silicone — and waterproof.
It's rechargeable with a magnetic plug, so no batteries or cords to worry about while you're using it. It holds a charge for a long time.
It's super quiet.
Here's why you might think twice: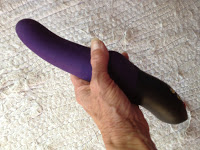 If you like a slender toy, this may push your limits, as it does mine. It starts at 1.25″, gets to 1.5″ quickly, then widens to 1.75″ at the girthiest point. That would have been too big for comfort, but it was irrelevant — it got to my G-spot at the 1.5″ width. The rest of it just became a handle.
The bump is supposed to be a clitoral stimulator. It never got close enough to touch my clitoris — too wide at that point for me. (That didn't matter to me, because, frankly, I was using a different clitoral vibrator at the same time. Yep,  teamwork.)
You may feel the drag of the matte silicone. Use plenty of water-based (not silicone) lubricant.
It's expensive.
"Stronic Eins"? I don't know why a toy this wonderful has such an odd name (does it mean something in German?), but you can rename yours. "OMG." "Darling." "Houdini." "Santa Claus." "Robert Redford." You'll think of something appropriate.
Seriously, what might deter you is the $199 price tag. Yow. I'll say it's worth it, but I also have to admit that I didn't pay for mine — the good folks at Good Vibrations responded to my request to review it. Thank you, GoodVibes — I love my Stronic Eins.
I wonder why a $199 toy doesn't come with a storage pouch. It needs one, because it picks up every piece of lint, dust, and cat hair in the room.
Please Note: Because the Stronic Eins technology uses magnets, it should not be used by or with anyone with a pacemaker.