What do you want in a sex toy? Serious question to Boomers, seniors, elders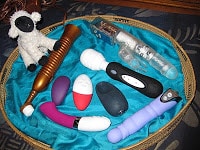 Sex toy manufacturers and retailers are aware that we Boomers, seniors, and elders use sex toys and are often frustrated when we buy products that don't fit our needs or wants.
You may not realize that many of those manufacturers and retailers follow this blog. They are eager to know what we want, exactly. They want to understand us. And of course, they want to make and sell products that appeal to us and keep us very happy.
Let's help them out. If you're over 50, I invite you to comment on this post and describe the kind of sex toy you wish you could find. (If you think you already read this post, I've updated it and added more.)
Here are some ideas to start you out. Many of us want these qualities:
Strong intensity.(Our king is the Hitachi Magic Wand.)
Vibrations last a long time without losing the charge.
Long-lasting product — does not break or die.
High quality, body-safe materials, accurately described. (Don't tell us it's silicone if it's not.)
Materials and construction that doesn't pinch, pound, or scratch delicate tissues.
Instructions we can read without a magnifying glass. Or better, make the instructions truly intuitive.
Handles and controls that we can use with fingers slippery from lubricant.
Dimensions provided in your retail description.
If insertable, slim version available (under 1.5″ diameter).
Ergonomic — don't make our arthritic wrists hurt.
Your turn — take it from here! What do you look for? What problems do you try to avoid? What should sex toy manufacturers and retailers know about how to serve you best? Here's your chance to tell them.
Request: when you comment, if you want to remain anonymous, I'd appreciate it if you would use a first name of your choice (it doesn't have to be your own). That way, instead of a string of comments from people all named "Anonymous," we can keep track of who said what. Please include your real age in your comment or in the name you choose.
Note: By posting here or emailing me, you're giving me permission to use excerpts in my new book, The Ultimate Guide to Sex after Fifty (Cleis Press) if they fit. What you tell me may help others significantly. (If I use your comments in my book, I won't identify you in any way, and I'll be careful to delete any details that might lead someone else to identify you.)
Note #2: If you represent a sex toy retailer or another sex-themed or other-themed site, read and learn, but do not try to pull my readers to your site using a link. I moderate comments, I look at the links, and your comment will not see the light of day if you do this. If you'd like information about advertising on this blog, or if you want me to review a toy that fits what my readers are requesting, please email me. If you try to spam my readers, I get very cranky and it doesn't do you any good anyway. (If you're an educational site or an author or sex educator, we do want to know about your site — you're not spamming if you link.)
Toy charging frenzy