When Roylin Downs, owner of Trystology, told me that I had to try the Doxy Wand, I believed her. She knows my preference for intense vibrators, even if that means that they're heavy and need to be plugged in.
Oh my. I wouldn't have imagined that a vibrator this strong existed. I don't even need to take it to the highest power setting to send me spinning into space. Even the low settings are strong and they're rumbly rather than buzzy. If you cycle from the lowest to the highest setting, it sounds like a plane taking off.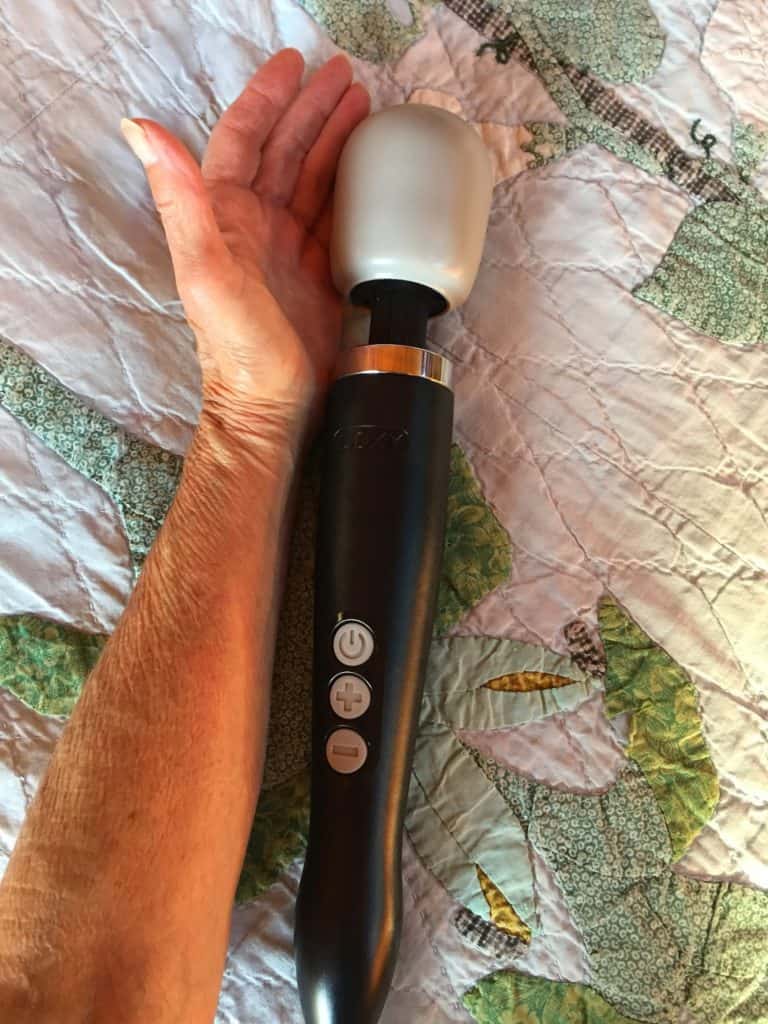 Doxy vs length of my arm.
Be aware that when you first turn it on, it doesn't start at the lowest setting, but at higher than mid-point. From there, use the "+" or "-" to turn it up or down. There's also a pulse setting activated by holding down the power button for two seconds, then releasing, but I have to admit that I didn't bother with that.
What can I say? It works hard, and it works quickly, even for this almost 71-year-old, slow-burning woman.
I generally prefer vibrators that are easy on arthritic wrists — this one is not. It's heavy, it's huge, and I would be in pain from trying to hold it for any length of time. However, that's irrelevant, because it works so fast that my wrist barely notices. Yes, it's that good.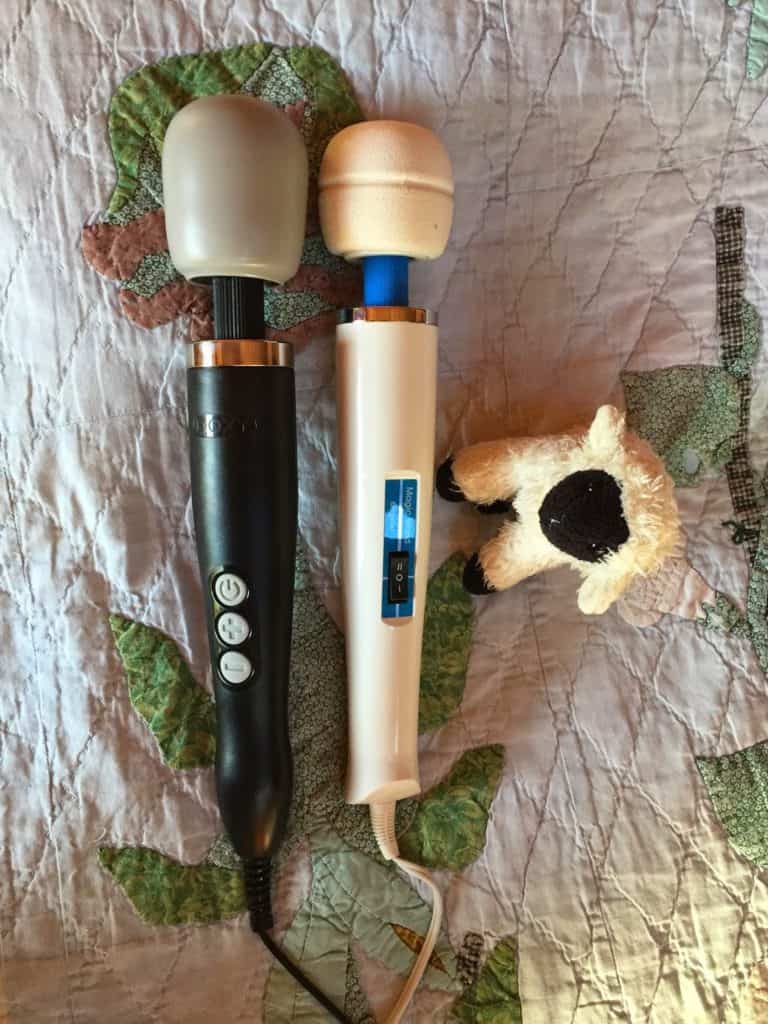 "But how does it compare to the Magic Wand?" you're asking. It's bigger. ("Bigger?! No way!" Yes, bigger.) And heavier. The cord is longer. All those sound bad, but it's not bad because all that size is necessary for the power it delivers.
As far as intensity goes, the Doxy feels stronger, but it may just seem that way because the head is larger and covers more territory.
I also like Doxy's head more than the Magic Wand's because Doxy is more cushy. Strong and soft are a great combination.
The head is made of medical grade PVC, according to the tiny, mini-font instruction booklet. I didn't know that PVC plastic can be medical-grade, but I looked it up, and it's phthalate-free and used for things like oxygen bags, drainage bags, and medical tubing. I know that doesn't sound very sexy except to my fellow sex geeks who get excited at learning about sex toys made of body-safe materials.
You can use water-based or silicone-based lubricants with Doxy, but not oil-based lubes.
No pouch included, which is shameful. An expensive sex toy should always come with its own pouch, especially since you're not likely to have anything around large enough to store it in. Maybe a knee-high sock, if you happen to have a spare. Doxy comes in a cardboard box that's even more enormous than it requires — not the best storage solution unless you have a large, empty drawer.
The mini-instruction booklet has all the requisite warnings — don't use under the influence of drugs or alcohol, or on inflamed skin, or if pregnant, or in water, etc. The warning that makes no sense to me is this: "Do not use… if you are under the age of 16." Why the heck not? I wish I had owned this vibrator when I was 15!
Thank you, Roylin and Trystology, for sending me the Doxy Wand, highly recommended for all of us who need extra power in our sex toys and have room in our drawer for a 15-inch-long vibrator! Available in white or black.