Let's Talk Louder about Senior Sex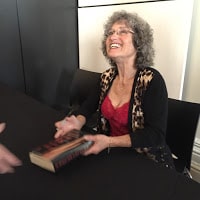 I've been writing and speaking about sexual issues for aging adults for 11 years now. Since 2005, I've made it my mission to advocate for and educate about older-age sexuality.
At first, my message was simply this: "Yes, we're having sex after 60 and beyond, and it can be the best sex ever."
Then, after many responses  and questions from my readers and the media, my message focused on this: "Yes, aging can bring changes that interfere with having good sex in the ways we used to, but for every problem, there is a solution, and here are the facts and tips that will help you enrich your sex life."
Despite the growing acceptance of older-age sexuality these days, I still find that huge numbers of people who can use this information are not being reached. So many of you don't know that there are solutions to the problems that aging brings. My email and workshop audiences and private conversations are filled with sentiments like these:
You don't talk to your doctors about sexual problems that may have medical causes — or if you do, your doctors don't have good sexual information either, and they're reluctant to talk about sexual issues.
I hear from single people, "I don't have a partner, so I don't have sex," not realizing how important solo sex is for sexual health, general physical health, and emotional well-being if you're unpartnered.
I hear from partnered people, "We can't have sex the way we used to, so we've pretty much given up," not realizing that sexual expression does not have to mean intercourse or anything else that it used to be.
Often you tell me that you've given up on sexual pleasure and sexual expression — and this tears my heart.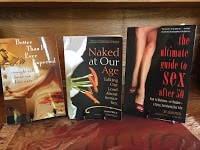 I implore you to talk out loud about your sexual issues, learn the facts about sex and aging (my books are good resources), and seek out professionals in your community who have made it their business to educate themselves about senior sex.
If you're working in a sex education or health field, update yourself with the latest knowledge about sex and aging, and reach out to seniors who may not be seeking you out. Make sure that you welcome my age group and have resources for us.
Readers: what resources would you like to see available or more easily available about older-age sexuality? Have you had experiences trying to locate resources and not finding them? I invite you to join the conversation. You can submit a comment under any first name (it doesn't have to be your real one), and please include your real age. (Email me with the subject header "blog comment" if you have trouble posting your comment, and I'll post it for you.)
I look forward to hearing from you.