We-Vibe Touch and Anniversary Collection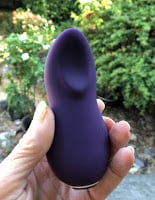 9/16/18 update: I'm moving this review to the top because the We-VibeTouch has become my favorite travel vibrator! It's tiny enough to pack in the toe of a shoe (not one you're wearing, of course) and so light that it adds no discernible weight to your carry-on. With all that convenience, you do not sacrifice power — it's strong and gets the job done, so to speak. 
Original review published 7/23/18:
The lovely folks at We-Vibe are celebrating a decade of creating pleasure products, and they sent me their latest products to sample. My favorite from We-Vibe is the Touch: small enough to be an easy travel companion, quiet, yet strong. I love the shape and its versatility — it's curved to cover much of the vulva for all-over stimulation, or press the cupped area over the clitoris, or point the tip wherever you want it, or combine any or all of these.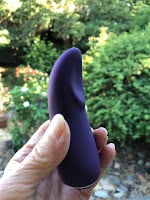 The Touch is fabulous to use on the clitoris during partner sex as well as solo, because it doesn't get in the way of two joined bodies. If you enjoy penetrative sex and need extra clitoral stimulation for your journey towards orgasm, this makes it easy and sweet. Add it for extra clitoral stimulation whatever kind of sex you might be enjoying — penetrative or not.
I had an earlier version of the Touch which I liked, but this one I love. The earlier Touch was made of a shiny silicone — this one is matte silicone: smooth and slick used with water-based lubricant, which enhances the sensation. It's small, weighs almost nothing, and if you're taking it as your travel companion — which I recommend — it takes no room in your carry-on.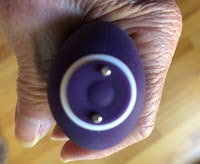 The controls are a raised button at the base, easy to find and use during use, though with lubed fingers you may need to press hard. (The two silver things are for charging.) It's completely waterproof — who needs a rubber ducky in the tub when you have the Touch? It has 8 vibration modes: 4 intensities and 4 patterns, and is surprisingly quiet, rumbly, and decently strong. It comes with a white satin pouch.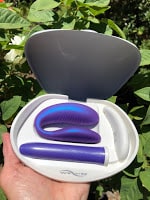 To celebrate 10 years, We-Vibe is offering their Anniversary Collection: the newest version of the We-Vibe Sync and the Tango mini-vibrator, both in passion purple in a compact travel case that doubles as a charging station.
We-Vibe Sync is advertised as a couple's vibrator, to be worn during penetrative sex, with the smaller end in the vagina against the G-spot and the larger end stimulating the clitoris. It's smaller and slimmer than earlier versions, and the bend between the two sections is adjustable, which is an improvement. It has an optional remote.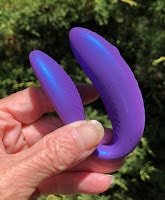 Despite all this, I don't find it comfortable during partner penetration and I prefer to use it solo as a warm-up. Insert it during a shower or bath (it's completely waterproof), or just wear it around the house for a while, vibrating to get the blood flow going to the genitals, and you'll find arousal is faster and orgasm is easier. It can be used other ways and for other erogenous zones, too — experiment and enjoy!
In a long-distance relationship? Use the We-Connect app to let a partner of your choice anywhere in the world control the vibrations. Or sync the beat to your favorite music. Playtime!
Thank you, We-Vibe, for sending me the Touch and the Anniversary Collection for review. Happy anniversary!