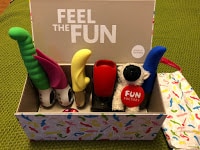 I find myself recommending these vibrators often — especially the Volta and the Cobra Libre — and I don't want you to miss out! 
Lucky me! I own a toy box of new vibrators from Fun Factory. As the name implies and the photo illustrates, each colorful Fun Factory vibrator has something playful about it. Sex toys for older women do exist and I'm going to give you the low down.
The shape may be a dolphin, a cuttlefish, a caterpillar, a race car. You can't help laughing as you try to describe it, and I'm sure that's intentional. Sex is fun. Solo sex is fun. Sex with vibrators is fun.
These Fun Factory toys have much in common, so I'm doing a round-up instead of reviewing the toys individually and repeating myself. All are well-made of body-safe, medical-grade silicone and they're waterproof for shower, tub, and pool use. Most charge via a USB magnetic charger, simple as can be, and they hold a charge for a long time. Yes, I have my favorites with unique qualities, and I'll tell you what makes them special.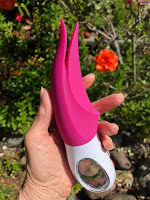 My top favorite is the Volta. It's delightfully versatile. The curved shape and vibrating tips (I think of them as "flippers") can give pleasure in several ways. For example:
Nuzzle a clitoris by surrounding the glans (protruding tip of the clitoris) with the flippers.
Rest the curve of the Volta over the vulva for all-over stimulation.
Separate the flippers to vibrate the clitoris and the vaginal entrance simultaneously.
Cuddle or circle around the head of a penis.
Stroke the shaft of a penis with the flippers during fellatio.
The Volta is not only versatile, it's wonderfully strong! Take your choice of 6 intensity levels, oh my, and 6 rhythm patterns. It's rumbly rather than buzzy, which I appreciate.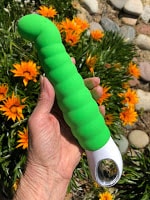 My second favorite is Patchy Paul (explain that name to me, please), caterpillar shaped including two eyes.* The shape makes it perfect for G-spot penetration, or clitoral pinpointing, or curving over the vulva.
I find most Fun Factory penetrative toys too girthy for pleasure, but Patchy Paul starts narrow  — 1.1 inch diameter at the tip — and gradually increases in girth, bloop by bloop, to 1.7 inches in diameter. Unless you like really deep penetration, that widest bloop won't matter. It's also fairly flexible, making it even more comfortable. Like the Volta, you get 6 intensities and 6 rhythm patterns.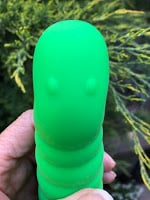 Patchy Paul's fake eyes
* A fun fact for you: Many caterpillars have fake eye spots so that predators think they're snakes. Patchy Paul has fake eye spots to make us laugh.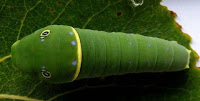 caterpillar with fake eyes
Both Volta and Patchy Paul have ergonomic loop handles — no wrist twisting (great for older wrists!) required, and no problem with lubed fingers. Besides solo use, the long shape and tapered ends make them work between bodies to add clitoral stimulation during partnered penetrative sex.
You can't choose between them? If you like simultaneous clitoral stimulation and vaginal penetration and you can budget for both, double your pleasure by using Volta on the clitoris and Patchy Paul vaginally. Wowza. Of course you can do that with any two sex toys that fit your needs — I'm not saying you have to buy two new products for this experience. But Volta and Patchy Paul work especially well as a team, thanks to the shapes — they don't get in the way of each other.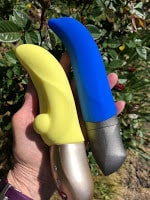 If you prefer a smaller vibrator and you don't need the turbo power I prefer, the adorable Cayona (sorry, no longer available) or Diva Dolphin might be just right for you.
The shape of Cayona is designed for both penetration and clitoral stimulation via the bump, but the dimensions weren't right for me (we're all different), plus the penetrative part felt too thick, and the vibrations were buzzier than my personal preference. Sure love the color, though!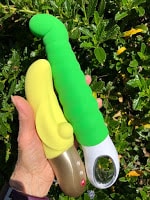 Size comparison
Cayona & Patchy Paul
The Diva Dolphin was more comfortable for insertion, tapering gradually. It can take batteries (no charging necessary), or if you prefer rechargeable, upgrade with Fun Factory's hybrid kit. It has 4 speeds and 6 patterns. A good product, but I was spoiled by the Volta.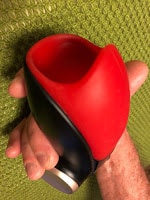 Cobra Libre II is a popular penis vibrator. It's designed to envelop and vibrate the head of the penis, the most sensitive area for most penis owners. Experiment with how you like to hold it and use it. MacDuff, my penis-owning reviewer, tells me:
"I used lube on just my penis at first and although it felt good, it didn't get me to orgasm. The next time, I added a generous amount of lube inside the Cobra Libre, and woo! That made it possible to slightly thrust in and out, all the while being stimulated by vibrations. I discovered that for me, the toy works best held in what seems like an upside down position, as that better follows the upward curve of my erection. Whee! Full orgasm. Knocked me out."
Anything to criticize about Fun Factory sex toys? Only that they come without pouches. Sturdy boxes, yes, but who has room to store boxes? Dear Fun Factory, couldn't you include one of your sweet Tyvek zipped toybags?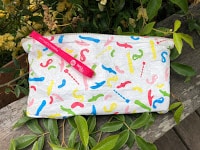 Always use water-based lubricant with Fun Factory products. They can be damaged by oils and creams, so be careful with other substances on your body such as sunscreen, Fun Factory warns.
Thank you,
Fun Factory
, for sending me these joyous sex toys in return for an honest review. Take a look at 
all their products
 — you'll smile at the shapes and colors, and I'm sure you'll find one that's just right for you. And don't forget to use your discount code.
See my past reviews of other Fun Factory favorites:
Special for Joan's blog readers:
15% discount with the code JOAN
for all Fun Factory products!*
* Discount excludes kits, bundles, gift cards, Liberator and SpareParts products. It cannot be combined with other offers.