Sleek and Ergonomic: Le Wand Petite review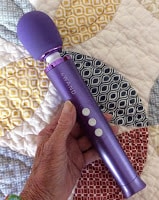 Sleek, handsome, comfortable, strong, and easy to hold. You'd think I was describing my latest man crush, but — no surprise, right? — it's a vibrator that has me sighing: the shiny purple Le Wand Petite. It also comes in a lovely rose gold. It happened that both The Smitten Kitten and Le Wand were eager for my opinion, and independently, they each sent me Le Wand Petite. Lucky me — I have both colors!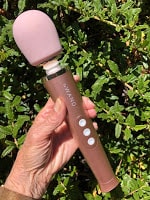 Le Wand Petite is stylish looking and refreshingly ergonomic. Despite its 10-inch length and fairly large head, the handle tapers to under 2 inches in diameter, making it easy for arthritic hands to hold. Nice for short arms, too! And it's light. Very light. Just under 8 ounces.
Like many wand vibrators, you'll feel some light vibrations through the handle, but the high-power vibrations stay focused in the comfortable, silicone head. The neck is somewhat flexible, but only a fraction of an inch unless you press hard.
Le Wand Petite works delightfully as a solo clitoral vibrator, and the slim wand and long handle also make it easy to give yourself clitoral stimulation during partner sex. A penis can also enjoy the stimulation — this isn't a gendered vibrator.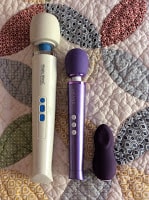 Magic Wand, Le Wand, Touch
But is it "petite" as the name claims? Compared to the original Le Wand (I'll add my review of that one soon) or the Magic Wand — yes. Compared to the vibrators that usually accompany me on my travels, like the We-Vibe Touch — no. However, it's so slim and light that it's easy to pack and carry.
It's USB rechargeable and shower friendly, and comes with a zipped travel/storage pouch. The raised buttons are easy to locate by touch without looking, though you'll have to memorize which is "+" and which is "-" if you don't want to stop the action.
Despite the claims of "10 rumbly vibration speeds and 6 vibration patterns," I wouldn't call the higher speeds "rumbly." The low speeds are rumbly, but get buzzier as the intensity increases. Is it as strong as my 75-year-old body likes? It's not a Magic Wand or a Sybian, but it doesn't claim to be, and it's surprisingly powerful for a vibrator that weighs less than 8 ounces. If you want strong but don't require turbo power, you'll be happy.
Full disclosure: So this happened. After several happy experiences with each Le Wand Petite, the purple one stopped turning on. It was fully charged, but would make just a quick buzz, then turn off and stay off. The marvelous Le Wand people jumped to give suggestions and offer a replacement, saying this was not a problem others had reported. Then a few days later, I turned it on, same problem, but after I wiggled the head (because… why not?), it turned on and stayed on. I've tested the off/on again, with no problems. I didn't want to post a review without mentioning this, but I'm confident that it was a quirky glitch that righted itself. If you do have problems, Le Wand has a one-year warranty.
Many thanks to The Smitten Kitten and Le Wand for providing me with Le Wand Petite in return for an honest review.