Manta for Penises from Fun Factory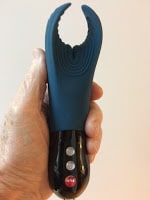 It's always a joy when
Fun Factory
comes out with a new vibrator, and this time, it's the
Manta vibrating stroker
for penises. I invited Shamus MacDuff to experiment with the Manta, and he sent this report:
MANTA from Fun Factory
 Reviewed by Shamus MacDuff
The latest addition to Fun Factory's delightful menagerie is a new sex toy for penises called Manta. Manta joins other Fun Factory "animals" such as Patchy Paul (a caterpillar) and Volta (a squid) in their growing sex toy "zoo."
Manta is so named because the "grippers"  of the vibrating stroker resemble the "horns" of a Manta Ray. These grippers (aka flexible wings) have six intensity levels and six different rhythms to create a range of exciting stimulation. Manta can be used successfully in solo sex or in partnered fun, and either way it's a winner.
Solo, I especially enjoy moving it slowly up and down my penile shaft with lube before eventually concentrating its vibrations on the frenulum and the ridge at the back of the penile head. Kazoom! This activity reminds me of watching real life manta rays rubbing up against coral heads back in my scuba diving days, an action to which they returned over and over because it obviously felt good.
My female sex partner used Manta to great advantage on my shaft, bringing me to throes of ecstasy as she combined Manta stroking with her own hand and mouth, backing off, and then bringing me up again. Joyous fun, leaving my entire body tingling.
Given that this wonderful "boy toy" works well solo or partnered, it will make an especially apt Valentine's gift as that day for lovers draws near. Manta provides a ray of joy (pun intended) for penis pleasure. It's wonderful to find another sex toy focused on the penis to accompany the many that are designed for the clitoris, vulva, vagina, and anus.
Special for Joan's blog readers:
15% discount with the code JOAN
for all Fun Factory products!*
* Discount excludes kits, bundles, gift cards, Liberator and SpareParts products. It cannot be combined with other offers.
=====
Shamus MacDuff, age 75, was oblivious to the delights of sex toys for penises until about a year and a half ago. He's been making up for lost time! Read his other posts here.



Note from Shamus's sex partner: I really enjoy giving my partner vibrator-assisted pleasure (as he does with me). Neither arthritis nor position fatigue stops the action when a toy like the Manta intensifies the sensation!
Note from Joan: Many thanks to Fun Factory for sending me their sex toys in return for an honest review. Take a look at all their products — you'll smile at the shapes and colors, and I'm sure you'll find one (or more) that's just right for you.