Anal-yzing and Enjoying Prostate Toys at 76 by Shamus MacDuff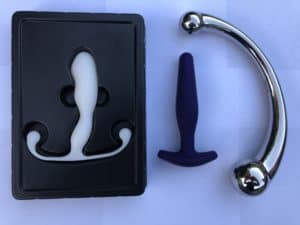 Until a year ago, at age 75, my only anal experiences consisted of childhood enemas administered by my mother and prostate examinations given by my doctor. Prostate massage toys never crossed my mind.
In my naiveté I never considered my anus or my prostate to be erogenous zones. But then I read The Ultimate Guide to Prostate Pleasure: Erotic Exploration for Men and Their Partners by Charlie Glickman and Aislinn Emirzian, and my curiosity was piqued. Wishing to explore and expand my own sexual repertoire, I obtained three prostate toys: Pleasure Plug 1 from Fuze, Pure Wand from njoy, and Helix Trident from Aneros.
I tried each toy with much trepidation and lots of lube, not knowing what to expect. Those initial experiences were disappointing. I had anticipated an immediate "buzz" or feeling of intense sexual excitement, and when I didn't, I thought prostate play was not for me.
I left those three toys unused in a drawer for many months. Then, still curious, I read Joan Price's interview of Charlie Glickman, "Prostate Play for Pleasure and Health." I decided to give the toys another try. This time around, "curiosity thrilled the cat!"
So what had changed?
I learned that a host of other prostate owners derive great pleasure from stimulation of the prostate.
I realized that I needed to experiment more.
I  understood that lying prostrate to access my prostate—the position I'd used in my earlier exploration — wasn't the best position. If instead I inserted the toy while standing, I could alter its placement easily with a hand free for nipple and/or penis play. Introducing any of the toys into my anus from that position brought my penis almost instantly erect, the more so when I moved the toy around or in and out. None of these actions alone produced an orgasm, but they primed me, and a well-lubed hand job led quickly to ejaculation.
The three toys are different.
The Pleasure Plug is essentially a 4-1/2-inch silicone butt plug—it's straight, only slightly flexible, and because of the shape, it doesn't reach my prostate.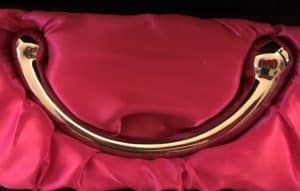 The Pure Wand is 7-1/2 inches of stainless steel and weighs a hefty 2 pounds. It is curved, so it can be positioned to touch the prostate directly.
The Helix Trident is 4 inches long, made of non-porous FDA-Approved Acetal plastic. It features a special Aneros design that stimulates multiple anal sites. (See more Aneros prostate massagers here.)
Both the Pure Wand and the Helix Trident can be maneuvered to push on, stroke, or massage the prostate to produce extremely pleasurable sensations. Those sensations are quite distinct from penis-oriented ones—they're deeper, subtler, and more diffuse.
My newfound knowledge led to a fantasy. I imagined how it might feel to insert either the Pure Wand or the Helix Trident while standing erect and having a partner perform fellatio as I wiggled the toy about. To my great joy this fantasy came true! Having inserted the Helix Trident with plenty of lube, I stood over my partner seated on a chair. She played with my penis lovingly while I maneuvered Helix Trident in my anus, and before long I exploded in a wonderful orgasm. The orgasm was so powerful that on release, it mostly extruded the toy!
At age 76 I've discovered my prostate and a whole new world of sexual pleasure that I didn't even know existed. If you experiment, you may also be equally fortunate.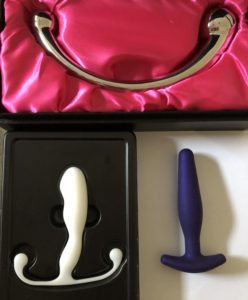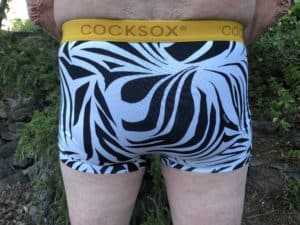 — Shamus MacDuff, age 76, was oblivious to the delights of sex toys for his own pleasure until about two years ago. He's been making up for lost time! Read Shamus MacDuff's other posts.