Limba Flex Dildos from Fun Factory + Dildo Fun Facts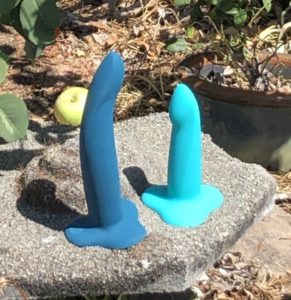 The new Limba Flex dildos from Fun Factory are as practical as they are lovely.  The Limba Flex M is 6.8 inches long, yet only 1.2 inches in diameter. The Limba Flex S is shorter — 4.7 inches long — and slightly slimmer at 1.1″ diameter. The shapes are different — they're not just different size versions of the same dildo. They're both made of body-safe silicone.
The best part about these dildos is that they bend! You can get just the right curve or angle for hitting the G-spot or prostate and for accommodating arthritic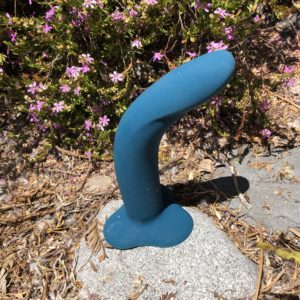 wrists.
I found the M much easier to bend than the S, probably because of the length. The M bent easily from completely straight, to tilted at the tip, to curved a little, to about 90 degrees. The S changed angle also, but with fewer variations, and it took some wrestling.
There are hundreds, maybe thousands, of girthy dildos in sex toy land, many of them uncomfortable or even unusable for aging vaginas. (Your preferred dildo width will vary, of course.)  I'm grateful to Fun Factory for creating these lovely creatures that work well for those of us who find a slim fit more comfortable.  Combine this with the flex option, and these are winners. As with all Fun Factory toys, they are high quality and built to last. Learn more and order here.
FYI the colors in the photos look lighter and bluer than the actual dildos, which are dark teal (M) and turquoise (S). Use with plenty of water-based lubricant for best results.
More Fun Factory pleasure tools you'll want to check out:
Special for Joan's blog readers:
15% discount with the code JOAN
for all Fun Factory products!*
* Discount excludes kits, bundles, gift cards, Liberator and SpareParts products. It cannot be combined with other offers.
So many ways to enjoy a dildo!
Solo: Hold the dildo and insert it vaginally or anally*, as you please.
Solo x2: Hold the dildo in one hand for penetration and a vibrator in the other for clitoral stimulation. Isn't that why we have two hands?
Partnered manual: You or your partner holds the dildo during sex pleasuring.
Partnered with harness: You or your partner penetrates the other by wearing the dildo in a harness, such as these from Smitten Kitten. If the wearer has erectile limitations, consider the Deuce harness from SpareParts which accommodates both a dildo and a penis, erect or not.
Temperature play: Experiment with chilling your silicone or glass dildo in the refrigerator or in a bowl of ice. Prefer warm? Warm it in hot water. Or switch between the two!
Experiment your way! This is just an introduction. There are no limits to what you, your body, and your imagination might enjoy.
* Important: Don't switch from anal to vaginal with an insertable toy or a body part, no matter how squeaky clean you feel. If you want to switch without getting up to clean your dildo (or body part), have two and designate which goes where. Another option is to use condoms on your dildo and change condoms between orifices. For anal play safety, be sure you're using a dildo with a flared base. All the dildos recommended here have flared bases.
More dildo resources for you:
Read "Dil-do's and Dil-don'ts" from Good Vibrations to learn more about dildos and how to choose the right one for you.
Most of the sex toy retailers in the right hand column (advertisers and affiliates) carry an extensive line of dildos. Think first about what you want in size and shape, and where you'll want it to go.
For the largest selection of  silicone dildos of every shape, size, color, and design imaginable, check out Tantus. I think my Tantus Paisley dildo is the most beautiful. Although the color combination in mine isn't available now, you can get the same model with all the wonderful bumps and swirls in "true blood red" or "twilight" blue. This one has a 1.5-inch diameter.
Kenton at Funkit Toys enjoys experimenting with colors and designs and, oh, the results are eye-popping. Kenton makes paddles and floggers as well as dildos. His Twitter feed is always interesting and often hilarious.