Bond, We-Vibe's New Vibrating Penis Ring, reviewed by Shamus MacDuff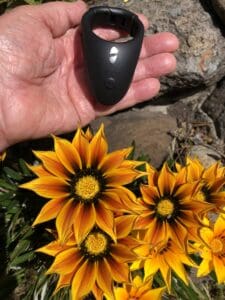 "Bond, James Bond" is the iconic catchphrase Agent 007 utters to introduce himself in at least a dozen of his films. "Bond" is also We-Vibe's new vibrating penis ring. James Bond is a handsome, romantic undercover agent. We-Vibe calls its Bond cock ring an "undercover tease."
I've tried several other vibrating penis rings, and Bond is innovative in several ways. Most striking is the adjustable quick-release system for positioning the ring around your penis and scrotum. Other cock rings I've tried require wearing the band around your shaft and stretching it to pull your testicles through. Depending on the size and shape of your equipment, this can be painful and far from sexy.
Bond, however, is a stretchy band with ends that detach completely to open the ring. Fit it around your penis and scrotum with the broad part against your perineum (that sensitive area between scrotum and anus). Then close the ring by linking the two ends together with a simple click. When you're done, open it just as easily. An extra custom fit link is included for those who require a slightly larger size.

Diagram by We-Vibe
Control Bond with either a small inconspicuous remote that fits in your palm or the We-Connect app. Either of these lets you play with ten different intensity levels. (Personally, I'm especially fond of the cha-cha). The toy is very quiet so it can be worn undercover in public without attracting attention.
Like all We-Vibe toys for vulvas and penises, Bond is made of body safe material and is fully waterproof. Charging takes up to 90 minutes via the magnetic charging pins, and a charge lasts for up to two hours. We-Vibe cautions that you should not wear the ring for more than half an hour at a time.
I used Bond first for solo sex. I loved that I could simply lie back, relax, fondle the remote, and bring myself to the edge several times before reaching an orgasm. It stimulates the perineum as well as the penis and testicles with delightful vibrations.
My partner and I experimented with Bond during partner sex. She took control of the remote while ministering to me with mouth and lubed hand. This produced the "tease" that We-Vibe mentions and helped me retain an erection. As enjoyable as that was, I prefer Bond for solo sex. It's so much fun to play with the protruding genitalia "bundle" myself!
Bond is a delightful new penis toy — clever in design and effective in results. Compared to other vibrating rings that encapsulate penis and scrotum together, Bond comes away as the best on the market. I'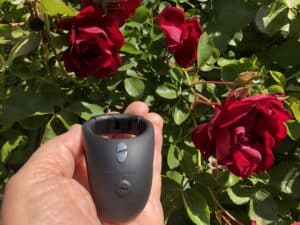 ve nicknamed mine "James."
— Shamus MacDuff, age 78, was oblivious to the delights of sex toys for penises until about four years ago. He's been making up for lost time! Read his other posts here.
---

Note from Joan:
Have you viewed We-Vibe's "Silver Sex" videos with folks our age talking about their sex lives and tips from sex educators? (Yes, I'm one of them.) All the videos are educational and entertaining, and well worth watching.