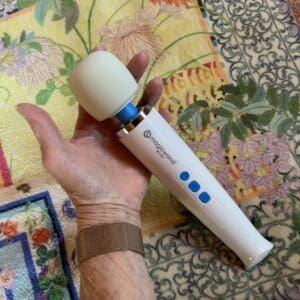 Do you  love your Magic Wand, but you wish for a smaller, lighter, yet still powerful version? Or do you wish your clitoris  could experience the Magic Wand that everyone raves about, but the size of the original is daunting? Welcome to the new Magic Wand Mini Cordless Rechargeable Vibrator from Betty's Toy Box. You'll get the same quality and most of the power at half the weight.
But is it small? It's not small. When I think "mini," I mean toys that are small enough to toss in a purse or stuff into the toe of a sock that's going into my suitcase, like the We-Vibe Touch or Tango or the Hot Octopuss DiGiT: palm-sized or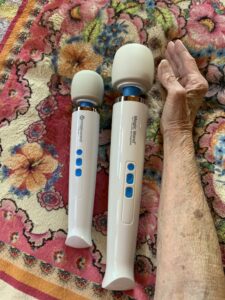 smaller. This isn't that! However, compared to the regular Magic Wand, it's mini. To compare:
Magic Wand Rechargeable: 13 inches long, weighs 1 pound 5.1 ounces, handle diameter 1.9 inches.

Mini Magic Wand: 9.5 inches long, weighs 9.7 ounces, handle diameter 1.5 inches.
What about power?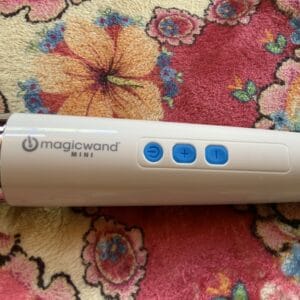 Yes, it's strong, though not as strong as the bigger models. The Mini Magic Wand has 3 power settings, vs. the Magic Wand Rechargeable's 4 power settings and 4 patterns. The Mini has plenty of power for most of us – including me, and I need strong vibrations. However, the second and third settings are higher-pitched (buzzier) than the bigger model. If rumbly vibes work best for you or you need the power of the highest setting, you'll probably want to stay with the larger wand. If you usually stay within the first settings of the Magic Wand and your clitoris does not demand rumbly, this will be a great choice for you.
Controls are intuitive: press the power button, then press "+" for more intensity and "-" for lower intensity. Controls are easy to see and use without reading glasses.
Other attributes
The head of the Mini is body-safe silicone, with a little cushioning that can make all the difference when you're pressing it to your clitoris. The neck is flexible, so that you can get the best position for your wrist. At our age, we have to think about these things.
The head is much smaller than that of the Magic Wand Rechargeable, which has its pros and cons. Pro: it doesn't take up so much room (vulvar real estate, I could call it) if you're also inserting fingers, a penis, or a dildo into your vagina while you use the Mini on your clitoris. Con: if you like more vulvar coverage to stimulate the internal clitoris, you might prefer the larger version.
The slimmer handle is as much a bonus as the lighter weight. It's much easier for my small, arthritic hand to hold, letting me forget about the logistics and just enjoy the sensation.
Like the larger Magic Wands, it's noisy. Close the door, turn up the music, send your family members to the movies.
I was delighted to find a full-sized user manual in the box, with clear, large black print on white pages. Thank you, Vibratex (and shame on all the sex toy companies that send tiny guides with light lettering on a colored background, impossible to read). But do we really need 5 full pages of warnings plus additional warnings on almost every page? I can't even count the number of "Do not…" and "Never…" Sure, we want to know what not to do, but let's not scare people away from using pleasure tools. Vibrators are not high-risk products. What if every restaurant menu contained 5 pages of what could happen if we choked on our food, ate enough to make us vomit, or scooped it up from the floor?
I was surprised that the Mini did not come with a storage bag.
Caveats
Do not use while plugged in. Plug it in only for charging, and do not leave it plugged in for more than 4 hours.
Use only water-based lubricant.
Use for no more than 20 minutes to prevent overheating. (Don't worry, you won't need 20 minutes!)
Clean the head carefully after use without submerging in water. It's not waterproof.
For external use only.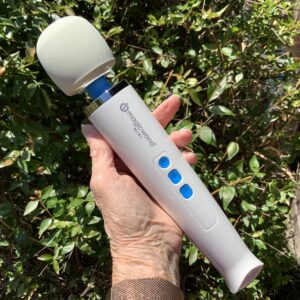 Thank you, Betty's Toy Box, for sending me the Magic Wand Mini Cordless Rechargeable Vibrator in return for an honest review.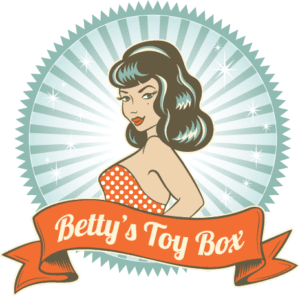 For 10% off your purchase, use coupon code JOAN10