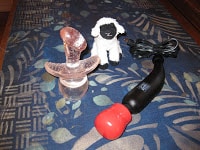 Christina from
Tabutoys.com
invited me to review some of their sex toys that are especially popular with women of our age. "The
Miracle Massager
is fabulous," she told me, "as is the
Miracle Massager G-Spot Accessory
that is sold separately."
I loved the idea — a strong, plug-in vibrator with an attachment that looks like a G-spot aiming dildo with fins that extend the vibrations fore and aft when the G-spotting part is inserted. "Do not fall asleep while using this massager," the instructions caution. Not likely!
I sampled the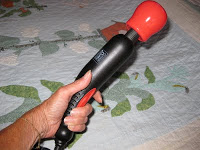 Miracle Massager first on its own, very nice. Strong vibrations but fairly lightweight and easy to hold with its ergomonically curved handle, and quieter than most plug-ins. I would have liked one more level up in strength, but I seem to say that about all my toys — I'm sure it's plenty strong enough for most women.
UPDATE: G-SPOT ACCESSORY NO LONGER RECOMMENDED until I find out whether it is still a jelly toy, or, as TabuToys says now, "phthalate-free TPR." It is not proven that a condom protects you from toxic materials, as I used to think. To be safe, avoid jelly toys and any toys that smell — that's outgassing of chemicals, and you don't want that happening in your body.
Then I added the G-Spot Accessory. If you have any trouble making the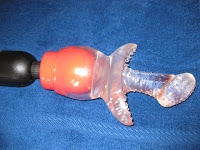 attachment slide onto the massager, a couple of drops of lubricant on the massager head solves that problem easily.


It was fun to feel the vibrations inside and out, but although the attachment is shaped to please, I discovered that the external parts landed a fraction of an inch away from the exact spots I wanted to feel most strongly. I'm a petite woman, and although I never thought about this before, the various parts of my nether regions must also be sized closer together than average. That's probably more than you wanted to know (and more than I wanted to tell, frankly), but I need to explain why the attachment gets a lukewarm review from me, though it might get raves from you.




You may have noticed that I usually review high-end sex toys with medical-grade materials — they're safest, most reliable, and generally most effective. I get wary when a sex toy is labeled "novelty item" — that means there are no guarantees about what materials were used. The accessory here is made of a material known as "jelly rubber" or simply "jelly," a porous material that can harbor bacteria even when scrupulously cleaned. Jelly toys are fun — they're comfortable, squeezable, visually inviting — so if you want to use an insertable jelly toy like this one, it's advised to use it with a condom for safe solo sex or sharing.