Posts Tagged 'Museum of Sex'
1944: Joan, age 1, with mother
Today is the 100th International Women's Day. One hundred years!
I'm a seasoned woman — age 67 as I write this — and I remember accepting blindly the women's roles and attitudes I was taught growing up. I watched my mother — a brilliant woman who wanted to be a doctor her whole life — working as a lab assistant in my father's ob/gyn medical office. No wonder she was bitter as she slapped down dinner after a long day running pregnancy tests with mice and rabbits.
Thanks to remarkable feminists who dedicated their lives to changing what we could expect from our lives, I was able to unlearn my upbringing, shake off society's roles, and go for what I wanted. My mother died unhappy, but I live pursuing my interests and dreams.
My self-discovery journey took me on many different paths and through several metamorphoses over the decades — high school English teacher, aerobics instructor, health/fitness writer — to who I am now:  senior sex activist/ educator/ speaker/ author who teaches line dancing for fun, exercise, and balance!
It's fitting that on the 100th International Women's Day, I discover this video: "Satisfaction the Granny Remake for EqualPayday." Thanks to Sarah Forbes, Curator of Sex at New York's Museum of Sex, for posting it on her blog in honor of International Women's Day and titling her post "Using Senior Sex to Sell an Equal Pay Day" so it would get my attention.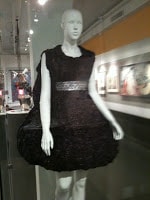 I was the oldest visitor perusing the exhibits at the
Museum of Sex
in New York City last Monday. At least I think so, but one of the unspoken rules of etiquette is that you stare at the exhibits, not at the other visitors.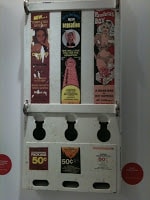 I visit this amazing museum every year when I go to NY. The regular collection is worth seeing each time — for example, a history of condoms exhibit which includes old condom vending machines and a dress made of condoms (rejected during factory testing, not used, thank you for asking), among many other sights.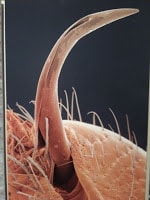 The top floor always has a new exhibit. This time, it was
The Sex Lives of Animals
. Don't scoff — this was fascinating! I learned that some animals masturbate (females as well as males, and not just mammals), have same-sex relationships, and have startling sex habits and attributes. But that was just the warm-up, so to speak. Ready for some startling facts about the animal kingdom?
For example, did you know that the male bed bug (pictured with erection here) stabs his penis into the female's abdomen, releasing semen into her blood stream?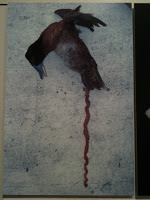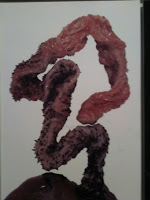 Or that the penis of the
Argentine lake duck
measures 16.7 inches (42.5 cm)? That's it here, hanging down from the duck and, on the right, curled up. I didn't read how the female is built.
If you get the chance, visit this museum. Give a shout here about what you learn. Oh, there's a senior discount.
I used my senior discount at the Museum of Sex, the self-described "educational sexual epicenter" at 233 Fifth Ave (at 27), New York City. The Museum of Sex describes itself as "wholly dedicated to the exploration of the history, evolution and cultural significance of human sexuality." That's a worthy goal, and the museum is well worth a visit when you're in New York City.
Amid the film clips of sex through the ages and models of sex machines, dolls, and such, there was an entertaining display of condoms and condom advertising . "I take one everywhere I take my penis!" proclaimed one poster, and another pointed out that a condom was "250,000 times cheaper than the average child." I don't recall the date of that poster — surely condoms are cheaper and childraising more expensive than they were then.
I loved the exhibit of antique vibrators.One resembled a rotary egg beater, and another could pass as a travel hairdrier. The early vibrators looked so heavy and difficult to operate that I can imagine women getting carpal tunnel syndrome before we even had a name for it!
Other than my presence, senior sex didn't exist in the museum. Oh yes, there was an old film clip of a dowdy 40-plus-year-old woman lecturing her teenage daughter about sex and revealing, "I was young once. I remember." Oh dear.
Hey, visiting a sex museum is tough research, but somebody's got to do it!