Posts Tagged 'Valentine's Day'
Brian Rea for The New York Times
"How we write about love depends on how old we are," observes Daniel Jones in his Modern Love column in The New York Times, Feb. 5, 2015. He explains:
The young overwhelmingly write with a mixture of anxiety and hope. Their stories ask: What is it going to be for me?
Those in midlife are more often driven to their keyboards by feelings of malaise and disillusionment. Their stories ask: Is this really what it is for me?
And older people almost always write from a place of appreciation, regardless of how difficult things may be. Their message: All things considered, I feel pretty lucky.
This last point hit home with me. As a sex educator, I hear people's problems all the time. But I also hear the good parts — the humor and joy and sweetness of what happens when we love at our age. Those of us who are lucky enough to have found love at this time of our lives are radiant with joy telling our love stories — even if that joy is tempered with the sadness of loss.
I know I feel that way. On this Valentine's Day, I'm remembering how my dear Robert made Feb. 14 a true celebration of love for seven years with gifts, cards, whispered endearments, languid lovemaking, and lots of laughter.
As sad as I am that I will never hold Robert again on Valentine's Day or any other day, that feeling has nowhere near the power of the joy I feel that this love was in my life. It feels like a miracle that we ever found each at all, let alone so late in life.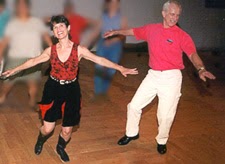 Joan and Robert 2001
What if he had never wandered into my line dance class that eventful night? We might never have met, never have crossed paths.
What if I hadn't been assertive (aggressive?) about making the first moves? He was content to see me as his dance teacher (which in itself is bizarre, since he had formal training as a dancer since the age of two, and I had no formal training at all), and he thought that was an uncrossable boundary.
What if I hadn't dared to proposition him? (You didn't know that part of our story? Read it in Better Than I Ever Expected: Straight Talk about Sex After Sixty!)
What if we had never realized one of the most important themes of our love story: that the ways we were the most different were the ways we most wanted to grow.
You see, at first, we saw our personality clashes and independence as proof that we were too different to ever come together as a couple — it would be too much work, too many compromises, and besides, we were satisfied with the way we were, thank you very much.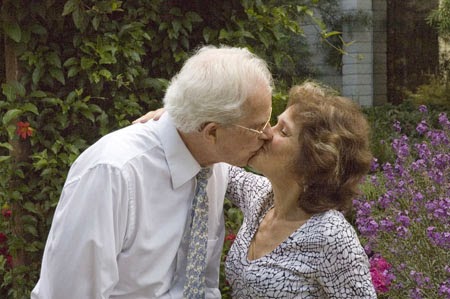 Robert and Joan 2006
But over the few years we had together, this attitude changed. The closer we got, the more we came to respect our differences — even laugh about them — and the less we felt we needed to resist change. In fact, we discovered that compromise led to change in directions we each wanted to grow.
Once we saw our differences as an opportunity to grow in ways that would be as good for us individually as they were good for us as a couple, we stopped resisting, reframed what we were willing to do for each other, and we blossomed together and apart.
What did you learn about love and about yourself in later life? I hope you'll share your experiences.
Every day is Valentine's Day when we're giving love and pleasure to ourselves or sharing with another. Here, as promised, are my absolute
favorite pleasure enhancers
. (The links go to my original reviews or to the retailer directly, depending on whether I've reviewed this product on my blog.)
I took so long posting this because I kept wanting to include more toys, and finally realized I'd never get it written unless I limited my choices. So these are what I would want with me if I were stranded alone on a desert island that had a wall socket, a supply of batteries, and a comfortable pillow for my arthritic neck.
We're all different, so just because a particular product is my solo sex partner of choice, that doesn't mean you won't prefer another. To see other toys I've reviewed or my tips about choosing and using toys, click
here
.
Pleasure giving sex toys: Joan's favorites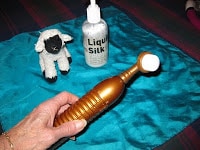 In
Better Than I Ever Expected: Straight Talk about Sex After Sixty
, I raved about
The Eroscillator
, the vibrator that Robert and I enjoyed together, especially with the soft, "marshmallow" attachment — be sure to get that one! The vibrations — oscillations, actually — are very strong, yet the wand is light to hold and because of the slim design of the attachment that touches your sweet spot, it can be used for clitoral stimulation during intercourse without getting in the way. The only thing I don't like about it is that it can only be used plugged in, so we were always flipping the cord out of our way. A minor distraction compared to the pleasure the Eroscillator gives!

I'm not the only one who loves the Eroscillator: Dr. Ruth Westheimer endorses it, and one of my readers wrote about how this supertoy gave his wife her first orgasm in six years.
For super-intense clitoral stimulation and an inevitable happy ending (not always assured at our age, you know)  the Hitachi Magic Wand is, well, magic! It is heavy and loud and has to be plugged in, but so what? It ranks right up there with the automobile and the iPod as one of technology's greatest inventions. Read my review here.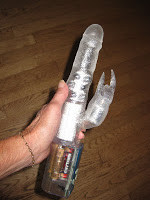 I've tried a few "Rabbits" (dual-action vibrators), and the only one that sent me to outer space was the Snow Bunny. The size, shape, distance between parts, and vibrational intensity were right for me. Your mileage may vary, and luckily, there are many Rabbits to choose from if the idea of clitoral stimulation + penetration in one toy appelas to you. Read my review here.
And don't forget the lubricant:
Liquid Silk is my favorite lubricant to enhance the joy of friction with a partner or a favorite sex toy. It's creamy, feels natural — smooth without being overly slick, and doesn't get tacky. Maybe best of all, it won't harm silicone toys (as silicone lubes will), yet feels better than the other water-based lubricants I've tried. If you haven't settled on a personal favorite, I always recommend trying a sampler selection from a favorite online or walk-in woman-friendly sex toy shop. Don't rely on the selection available at your local drugstore.
Happy Valentine's Day, dear readers! Take pleasure today — and often.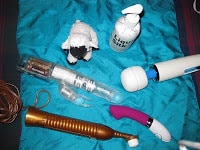 Since I started this blog in November 2005, I've written 350 blog posts, including 43 book reviews, and 20 vibrator reviews. Valentine's Day is coming in a week — which, in my view, is for celebrating our capacity for love and passion, whether we're partnered right now or not.
In this post are a few of my favorites among the books I've reviewed, with links to my original review. Some of these books are spicy and explicit, others are subtle enough to leave on view if you're expecting company, and some are so informative that you'll want to talk about them at the water cooler.
Tomorrow I'll post some favorite sex toys!
Spicy and/or informative books:
Autumn Romance: Stories and Portraits of Love after 50 by Carol Denker: A beautiful coffee-table book with stories and photos of later-life romances.
X: The Erotic Treasury: 40 Sexy Stories ed.Susie Bright. Explicit, edgy, hardcore, and beautifully bound.
Best Women's Erotica 2010 & other books from Cleis Press. If you want books with explicit sex — maybe a special preference or kink — check out Cleis.

Bonk: The Curious Coupling of Science and Sex by Mary Roach. Entertaining and informative, filled with the weirdness of both the procedures and findings of sex research.
Getting Naked Again: Dating, Romance, Sex, and Love When You've Been Divorced, Widowed, Dumped, or Distracted
by Judith Sills. The subtitle says it all!
Rescue Me, He's Wearing a Moose Hat: And 40 Other Dates After 50 by Sherry Halperin. Come on, we have to keep a sense of humor about this dating stuff — and Halperin does.
Better Than I Ever Expected: Straight Talk about Sex After Sixty, my own book of my love story with Robert, celebrating the joys and addressing the challenges of senior sexuality.
Read more of my book reviews here.