Joan on ABC Nightline 12/1/06: senior dating/ sex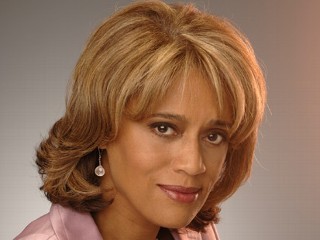 (photo of Vicki Mabrey from ABC Nightline)
Air date update: The senior dating/sex segment ran December 1, 2006!
Tuesday, October 24, put me on a natural high that still makes me tingle. That's the day that ABC Nightline came to Sebastopol, CA to film an interview me for a segment about senior dating, sex, and sexual health.
First, the film crew met me at Coaches' Corner, where I teach line dancing, and filmed my line dancers (who had assembled for a contemporary line dance demo) for an hour. It was both strange and exhilarating to dance with cameras literally in our faces, at our feet, everywhere we turned. I am grateful to our fabulous line dancers who kept their cool and kept on dancing and smiling.
The crew then drove to our house and settled in: moving furniture, asking Robert to move some of his paintings so the right color painting would be behind me, setting up lights in two different rooms, checking the lights and sound with me sitting, talking, typing. They filmed me typing and reading the Sex and Dating comments of my blog. (Thank you, those of you who commented!)
Next Vicki Mabrey, the 4-time Emmy award winning correspondent, and producer Talesha Reynolds arrived from New York. Fabulous women, full of spirit, they seemed to enjoy every word as they interviewed me for about 2.5 hours. We talked about many subjects related to seniors dating, loving, having sex. We discussed our culture's stereotypes of older people having sex as either ludicrous or icky. (You know how I feel about that!)
At the end of it all, Vicki and Talesha asked me to teach them a line dance, which I did with pleasure. We danced, shook our hips, and laughed together.
I'm thrilled about getting the opportunity to "speak out" on this important topic to a huge audience. I'll check in again here after the show airs.