"Best and Mightiest Aphrodite"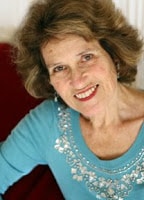 Hey, this is so cool! I just received the "Best of the North Bay 2007" award for "Best and Mightiest Aphrodite" AKA "wrinkly sex kitten" by the North Bay Bohemian newspaper ! I love it!
This happened the same week I had cataract surgery. It all fits together, doesn't it? 😉 Here's the article:
The Bohemian's
Best of the North Bay 2007
Romance: Writers' Picks
Best and Mightiest Aphrodite
If gaining entrance to the love-ins of the '60s was contingent upon being mortal, Aphrodite would likely have traded in her spot on Mt. Olympus for a ticket. Some 40-odd years later, would this goddess-turned-mortal still be sexy? Somewhere after menopause, she'd probably have traded in her Botticelli curls for a Diane Sawyer coif. Popping Viagra, suitors would still come knocking to woo this now mature and wrinkly sex kitten.

Wrinkly sex kitten? Yeah, why not. Enter the world of Joan Price, who at 63 is pshawing the way that pop culture ridicules older people who still have sex. The Sebastopol resident has written Better Than I Ever Expected: Straight Talk About Sex After Sixty, which has become something of a bible for sextua-, septua- and octogenarians wanting to restore their sex lives. She's packed the book with exercises to keep love muscles tuned up, testimonials by older women doing it and her own story about falling for the love of her life at age 57. This author-cheerleader has been touring throughout the country, giving workshops to women–and sometimes men–who are 50-plus and want to keep their sex drive alive. "When I do a workshop," she says giggling, "it's sort of an ice breaker the first time I say 'lubricant' or 'vaginal tissue' or 'clitoris' or 'sex toy.'"

To Price, mature desire is not an oxymoron. In fact, she and her husband don't see any reason why wisdom shouldn't be sexy. "[My husband] sees wrinkles as sexy," she says. "He sees an aging body and face, certainly, as extremely attractive, because they reflect what a woman has experienced and learned and given to the world and brought back to herself. Someone without them is sort of suspect."

Price also has a popular blog, www.betterthanieverexpected.blogspot.com, where she and her readers discuss issues surrounding aging. In one recent post, Price brainstorms about different terms to describe older people: senior, elderly, mature, etc. She was prompted to write this post after reading a newspaper article that referred to a political conference attendee as a "little old lady." Although the article wasn't talking about her, per se, she took it as an affront to her demographic as a whole. On her blog, she quipped, "Don't call me a little old lady . . . Call me Joan." Whatever you call her, she's our mighty, middle-aged Aphrodite.
Article and photo by Brett Ascarelli