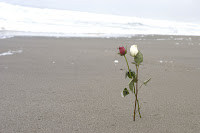 Last night I dreamed of Robert for the first time since he died. I had wished to dream of him, to see him again.
In my dream, I was sleeping and woke to find his naked body — strong, no back fractures — beside me. I sidled into his embrace, inhaling his scent (which I always loved, and which was vividly real in the dream!). Oh, he's just been away on a trip! I thought, trying to make sense of his beautiful body beside me.
Suddenly I started to sob to him, "I can't bear being apart from you! Let's stay together for the rest of our lives!""Yes," he answered quietly.I looked into his dear face. He was gazing at me intently, lovingly."But how did you get here?" I asked him, suddenly thinking that our house was a long way from the airport. "I have your car!"He looked at me puzzled and perhaps amused. Then he started to fade away and I woke up.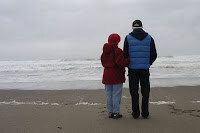 (photos by Robert's son, Mitch Rice)