"Can I vote on your marriage?"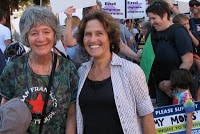 "Can I vote on your marriage?"
"Straight but not narrow"
"Give love a chance"
"Please let my Dads stay married"
"Marriage is defined by commitment, not genitalia"
These were a few of the signs carried by almost 2,000 people who marched yesterday in Santa Rosa, CA, part of an effort around the country to protest California's passage of Proposition 8 banning gay marriage. Our own Sonoma County voted 66% against the proposition, but the state as a whole passed it.
Why was I there? I am committed to the belief that we should all be equal under the law — which seems so obvious that I am horrified, mystified, and embarrassed that Prop. 8 passed.
Beyond that, I had the profound and exhilarating experience of marrying— spiritually and legally — artist Robert Rice, the great love of my life. I know the depth, the joy, the emotional power of making that commitment.
Why deny the legal right to that same experience to committed couples who happen to be hardwired to love someone with the same genital configuration instead of the opposite?
I just don't get it!
We marched yesterday, a rainbow of ages, colors, sexual orientations, united by one firm belief: equality under the law. Some walked nimbly, others were assisted by canes or crutches. Some pushed strollers, led dogs (often with their own signs or stickers), played instruments, or held hands. Many of the protesters were elders, I was happy to see, both gay and straight.
An amusing distraction was a man who carried a Bible and a sign that proclaimed, "God hates shrimp! (Leviticus)" In case you don't know, the same book of the Old Testament that some people use to "prove" that God hates "sodomites" also includes this: "Whatsoever hath no fins nor scales in the waters, that shall be an abomination unto you." In case you want to pursue this, visit the website devoted to this. (In case that makes you nervous, it's a parody.)
I interviewed several elders about why they were there:
Liz Basile will be 81 next month. She left the Catholic church because of its positions on priest celibacy, abortion, and birth control. "I voted no on 8 because it's just not fair," she told me. "I've had two divorces – what did I do about the sanctity of marriage?"

Whitey Sterman, age 79, has two gay sons. "But I'd be here even if they weren't gay," he said.

"I think I'll die still perplexed about why anyone cares what I do with my genitals," Harley, a 68-year-old artist told me. Harley (who was a dear friend of Robert) is in a committed relationship with Hamlet Mateo, also an artist. "If I had waited for approval to be myself, I could never have lived my life."
At a small group discussion afterwards, a grey-haired woman described the joy of being able to marry her partner of 15 years last October. Though she is dismayed that her marriage is no longer legally valid, she told us, "My marriage didn't start last October, and it didn't end on election day,"
I welcome comments on this and all my blog posts. If you'd like to comment but don't know how, click here. It's easy, really! If you have a website or a book related to the subject of this blog that you think we'd benefit from knowing about, feel free to include name and link. (No feeble excuses for blatent advertising, though, and no links to drugs or sites that I might consider questionable. If in doubt, ask me.)

Many thanks to Emily Evans for taking the photo above.
For more about this march, view a gallery of 17 photos by the Santa Rosa Press Democrat's Kent Porter and read the Santa Rosa Press Democrat's coverage of the march.