"What I learned about my sexuality in 2011": readers respond
Are you over 50? What did you learn about your sexuality in 2011?
Please read the comments below to learn how many of you responded to this question. Some responses are joyful; some are unhappy, some are helpful. Together, they give us a glimpse into the reality of senior sexuality — the delights, the disappointments, the surprises when our dreams come true, the ways we make do when they don't.
If you'd like to add your voice, and you're 50+, please continue to comment below. If you prefer, email me a sentence or a paragraph, with permission to add it to the comments here, and I'll post it for you under the name you tell me (it doesn't have to be your own).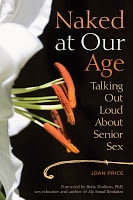 Since
Naked at Our Age
was envisioned to answer the questions and address the problems we encounter trying to have a rich sex life at our age, I urge you to read it. It really does discuss all of the problems you wrote about in your comments, and much more. Forty-five experts give advice after reading your stories and your questions.
It's the book that I wished we had available when I started talking to people about their sexual concerns — and now we do.
As we wrap up 2011, please put at least one special sex-themed resolution on your 2012 list. You deserve joy.
Thank you for continuing to read my books and this blog, and thank you especially for your willingness to add your candid comments. That's what makes this a community.