"I left without letting him see me" — a first date goes bad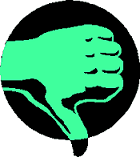 Annie, age 67, is a friend of mine and a beautiful, peppy, athletic woman. We were taking a walk together, and with great embarrassment, she confided this story (posted with permission):
This man contacted me from OK Cupid. In his photo, he had thick black hair with a little grey, and he described his body type as "average."

When I arrived at the coffee shop for a first meeting, I spied him from the doorway. I recognized him, but just barely. His hair was white and thinning, and he was at least 40 pounds overweight. I was totally grossed out by his misrepresentation of himself, and I froze. Then, instead of approaching him, I left without letting him see me.

He sent several texts along the lines of "I'm here waiting, looks like you're running late." When I finally responded, I told a half truth — "I'm so sorry, I couldn't meet you" and a total lie: "I'm having trouble dealing with a break-up." 

He sent me a scathing email calling me rude and inconsiderate, and I apologized and said, '"Yes, I know, I'm so sorry."

What advice would I give to men on online dating sites? Be honest, really honest. Post a recent photo. Say what you look like. If you're 40 pounds overweight, say so. Otherwise you're misrepresenting yourself, and someone's going to be pissed off. Hopefully they won't do what I did and not even talk to you. There's someone who will love you the way you are, so be yourself.

Do I feel right about what I did? No, I'm terribly embarrassed. I've never done anything like this before. I was scared to tell you.
I confess I came down pretty hard on Annie. I'm always ranting about honesty and authenticity, so neither Annie nor her date scored big points. How could she have handled this instead? I suggest that she could have gone through with the meeting, and after some light conversation, said something like this:
"I need to tell you that when I saw how different you are from your photos and your description of yourself, I felt you had misrepresented yourself. It doesn't do any good, really, to post an old photo and not tell the truth about your body type — it's bound to come out once you meet, and they feel deceived. If you portray yourself honestly, you'll draw people who are attracted to who you really are, and you deserve that. We all deserve that."
Do you think that's cold? There was no potential for a second date anyway, so maybe this could be a teachable moment.Please realize that I'm not shaming someone for an extra 40 pounds and thinning, white hair — it's the misrepresentation that doesn't serve him and doesn't get him closer to a first date becoming a second date.
What do you think? I'd love to know your opinion.