Amorino: a twisted sex toy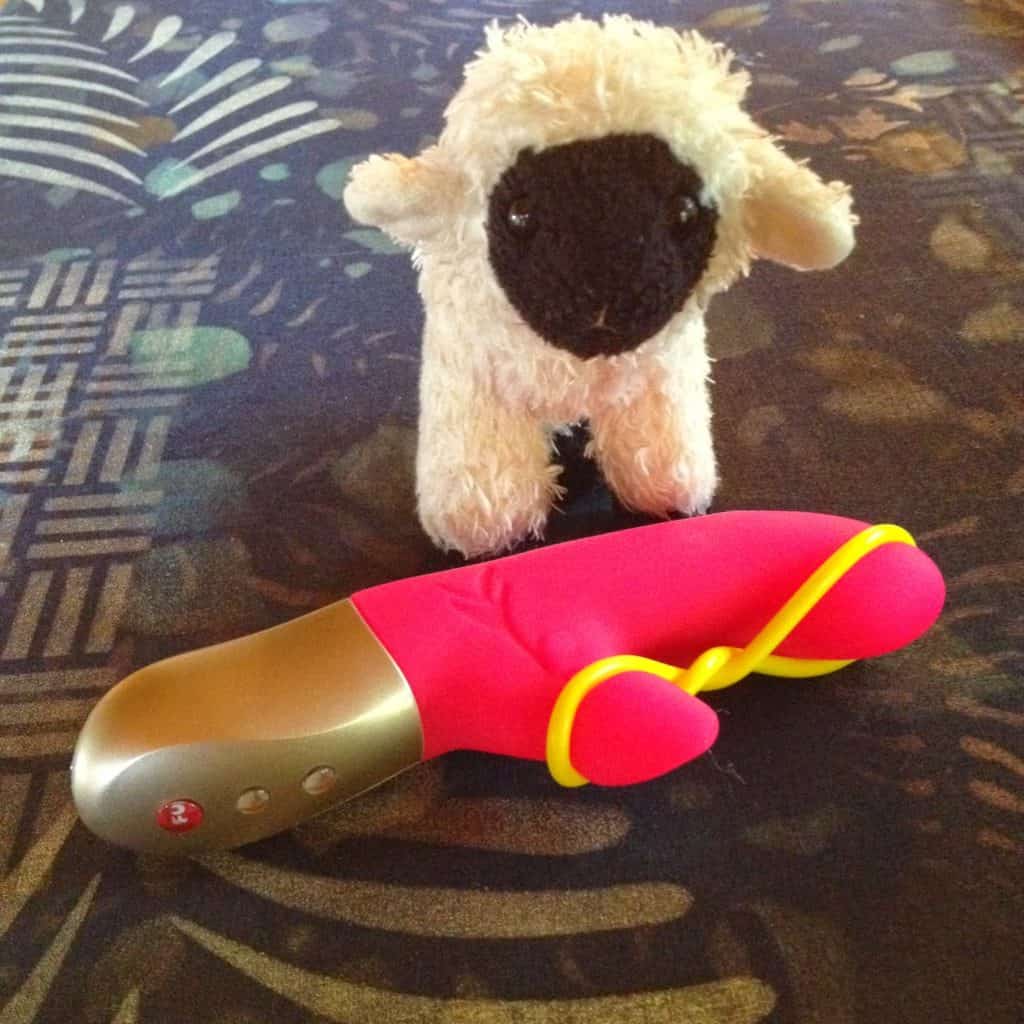 When I first saw a photo of the
Amorino
, I was mystified. Why put a twisted rubber band on a vibrator? Bondage is one thing, but on a vibrator? What an odd sex toy — I had to try it. Fortunately, the good folks at
Good Vibrations
 were eager to send me one.I discovered with pleasure that this strange little vibrator can be used in a variety of ways, and  I had  fun experimenting with it.
Let's start with the bare vibrator. Without the band, the medical-grade silicone mini-vibe can be used as a "rabbit"-style vibrator for dual stimulation of the clitoris and vagina.
The insertable length is only 3 inches, and the width is just 1.25 inches. This smaller size suits many of us older women just fine. The surface is smooth, and both tips are soft and a bit flexible, another plus.
So why the yellow band?  I was skeptical at first: Why would anyone want to add a rubber band to a vibrator?
Actually, I discovered, the band adds a strange and quite pleasant sensation, almost like it's "strumming" your vulva. Instead of inserting the shaft fully, just insert it shallowly (or not at all) and let the band play over your clitoris and labia. Pleasant, fun (it's made by Fun Factory, after all), and sexier than you might imagine.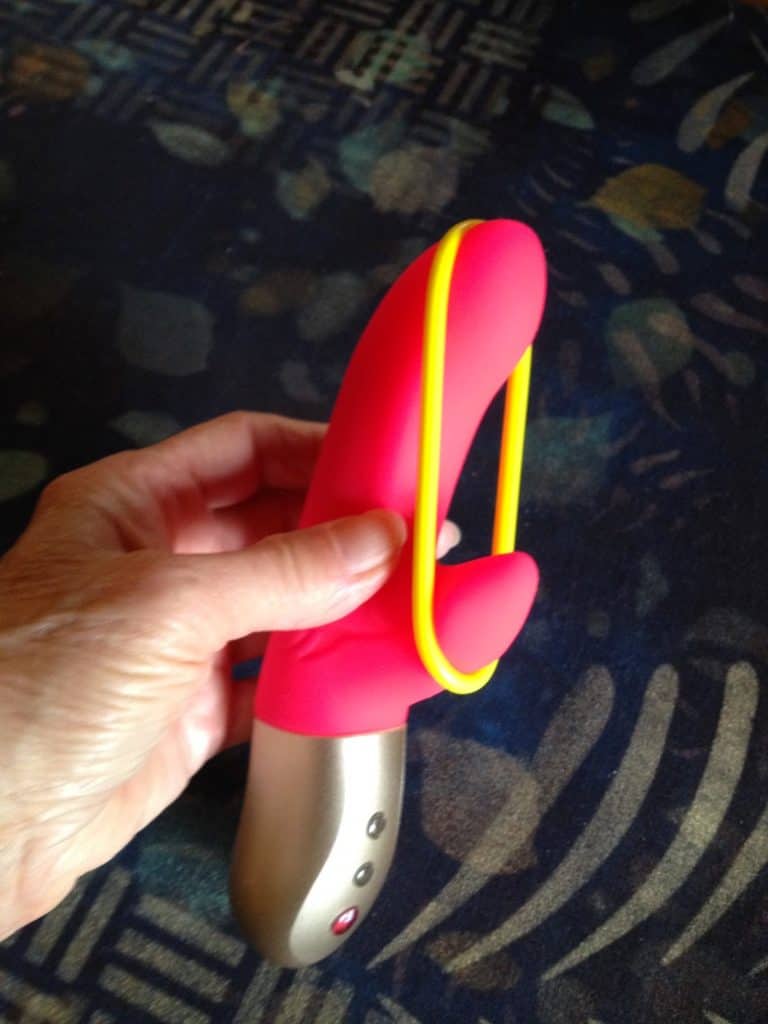 How do you attach the band?
1. You can loop it around the vibrator (there are indentations to keep it from slipping).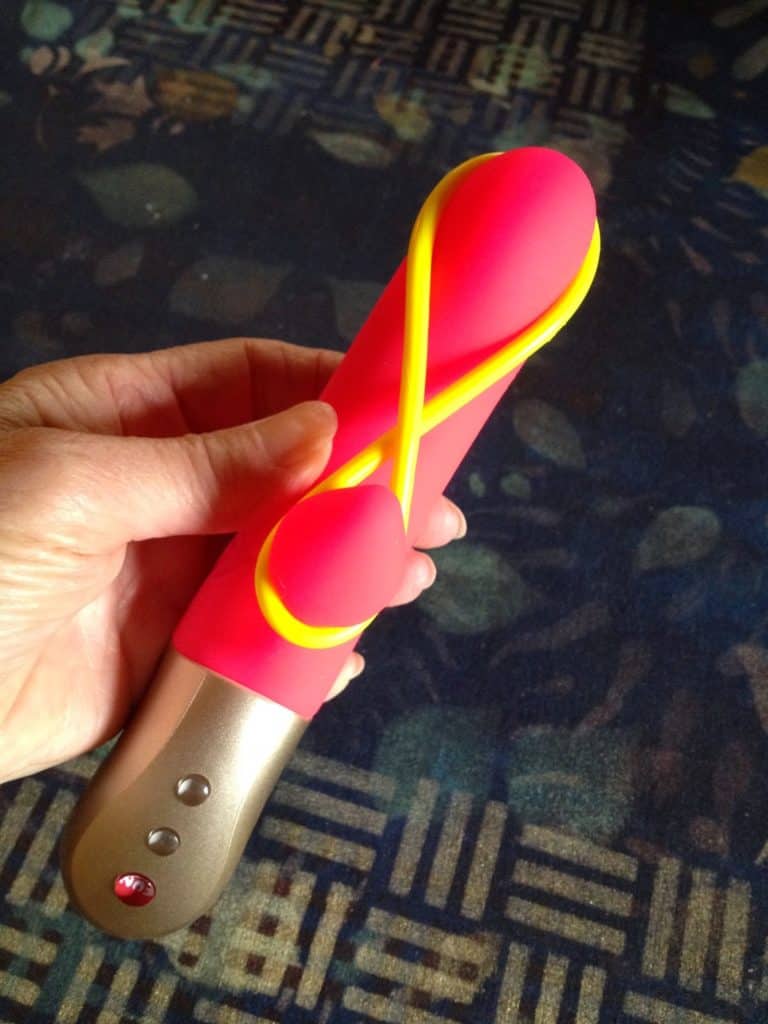 2. You can loop it over the top, twist it once, then loop it over the bottom.
3. You can twist it twice.
Experiment and enjoy! In case you're wondering what havoc that twisted band might wreak on pubic hair, I was happy to discover that it did not catch or pull. Your experience may vary.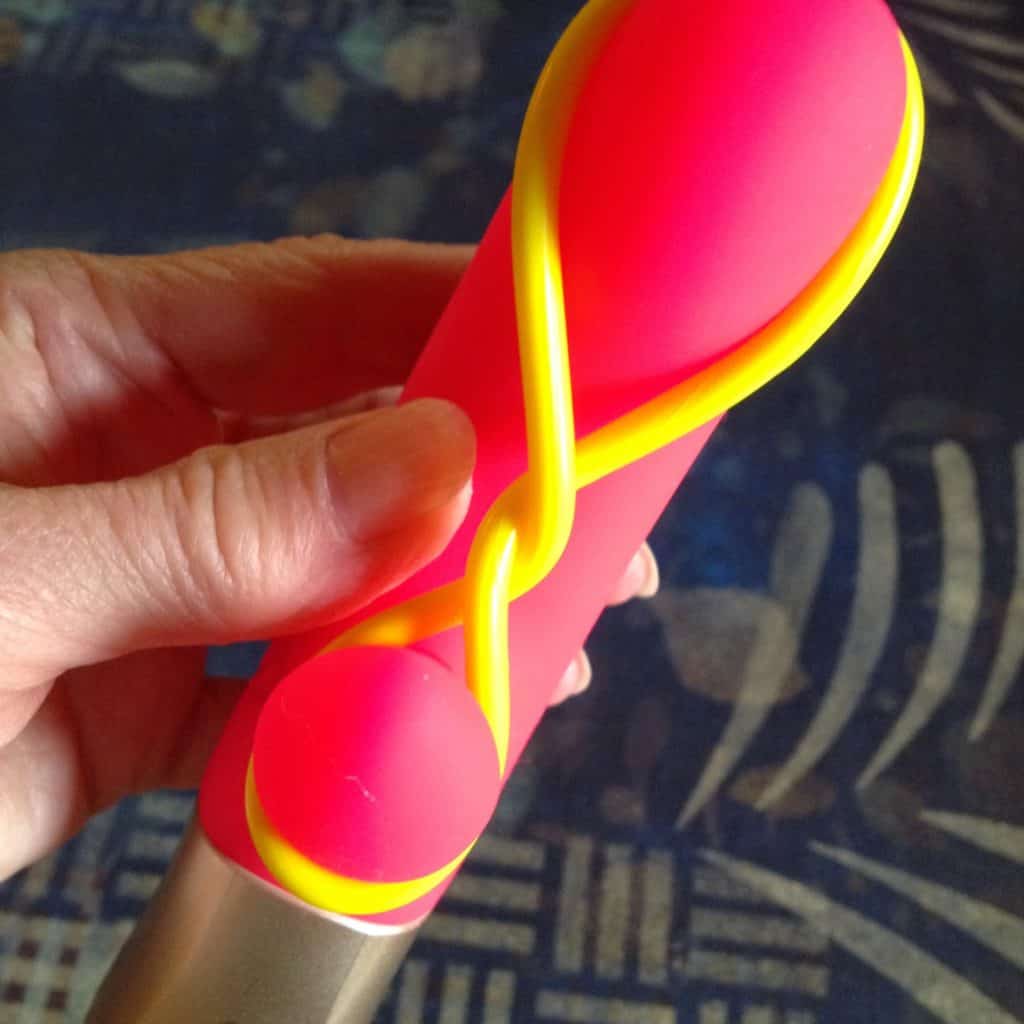 The Amorino may also be used anally, but only without the band.
Is the Amorino strong enough to bring older women to orgasm? You may not need the intensity I do, in which case the small but mighty Amorino will make you very happy.
For me, it felt good, very good, but it wasn't quite strong enough. I've come to enjoy several of my feels-nice-but-not-quite-strong-enough-to-get-me-there vibrators for a yummy, slow arousal. Then I grab one of my stand-bys (Magic Wand, Eroscillator, or — my recent find — Palm Power) for a happy ending.
The  Amorino comes with a USB charger. Once charged, no cords. And it's waterproof!
I wouldn't recommend the Amorino as your first or only vibrator, but if you're a connoisseur of sex toys, as — ahem! — many of us are, I think you'll find this an entertaining and pleasurable addition. Or, as some reviewers do (hello, Dangerous Lilly!), you may find it too gimmicky. I'm in the first camp — I like it. I don't love it, but I like it a lot.
Thank you, Good Vibrations and Fun Factory, for providing me  with the Amorino in exchange for an honest review from a senior perspective.