Private Gym: Kegels for men — with penis weights!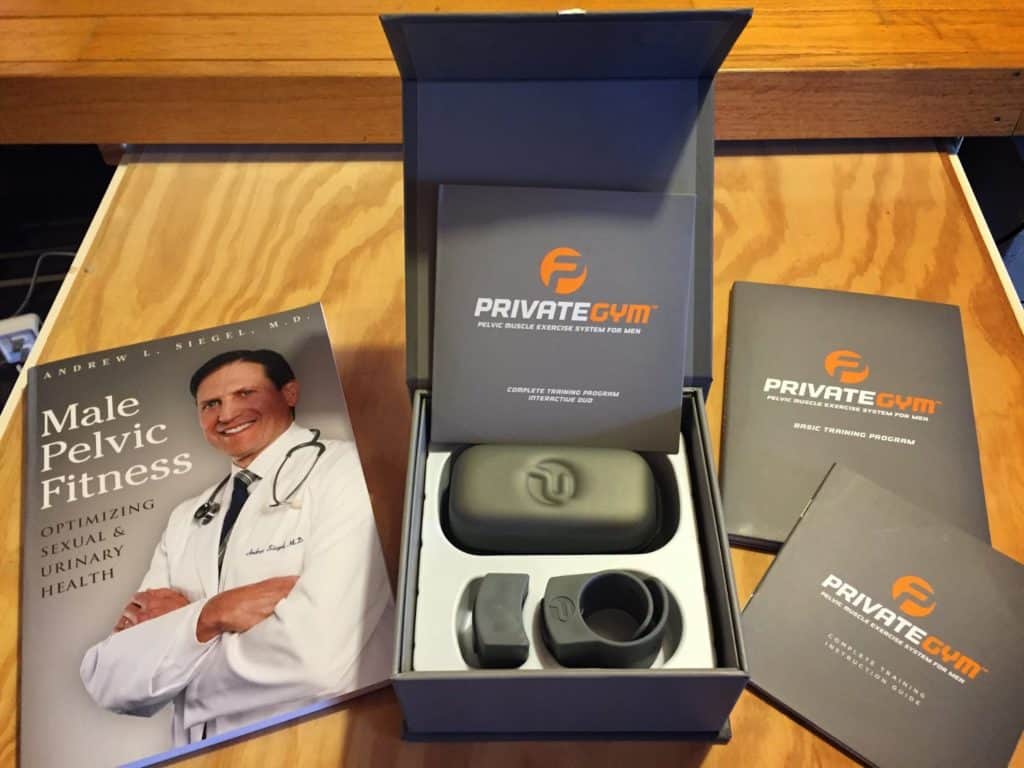 I've stressed the importance of pelvic floor (AKA Kegel) exercises for both male and female anatomies, but I admit that I haven't given as much focus to male bodies. Now there's a complete exercise program for male pelvic muscle training — Private Gym — including weight training for the penis!Stronger pelvic muscles give you more blood flow to the penis, stronger and more rigid erections, better urinary and rectal control, and stronger orgasms and ejaculatory force. Like any other muscles, they respond to strength training. Private Gym offers both a "basic" and a "complete" training program.
Both include a DVD, an instruction manual, and a book, Male Pelvic Fitness: Optimizing Sexual & Urinary Health. The book presents a ton of anatomical and sexual function information, plus cool factoids that you can throw out at a sex-positive dinner party, such as what "phallocarps" are and which animal ejaculates 4-5 gallons of semen.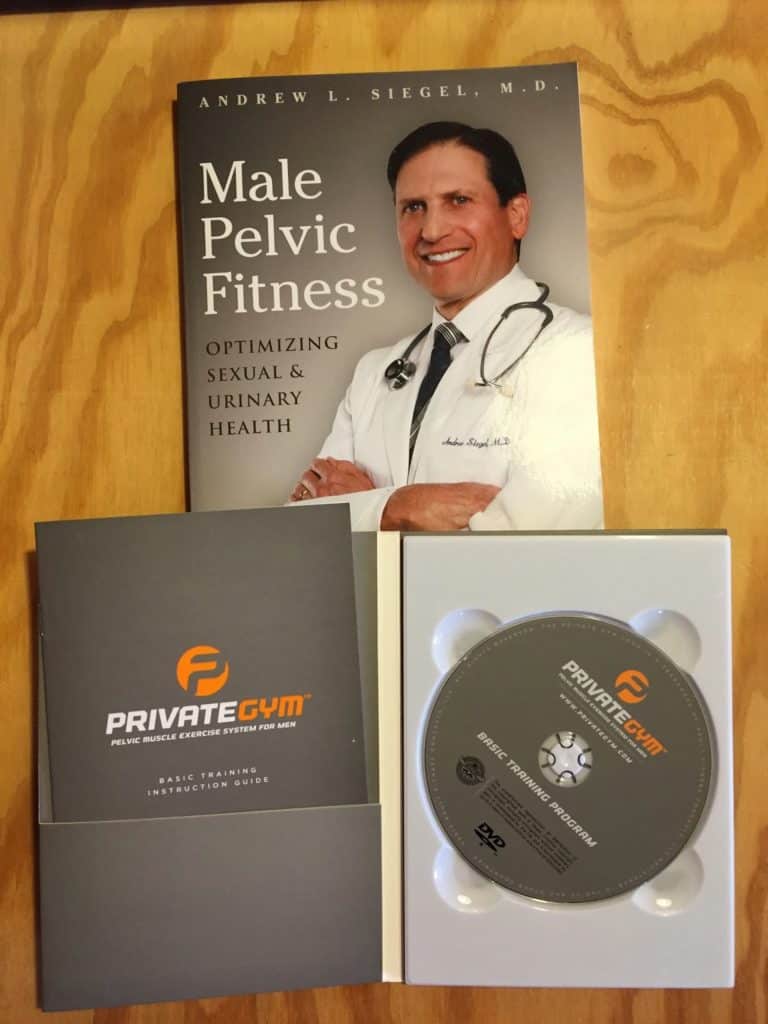 This program lets you learn and practice the step-by-stem program with a follow-along DVD. It's very well done, with clear illustrations and explanations. (I would have preferred it without the background music, though, which I found repetitive and distracting.)
The difference between the programs? The basic gives you a 4-week, progressive, step-by-step program.  It's good, especially for pelvic floor training beginners.
However, I recommend the complete program, which includes the basic plus additional exercises and 4 weeks of resistance training, which you do with the included weights. (Only the complete program includes the weights.)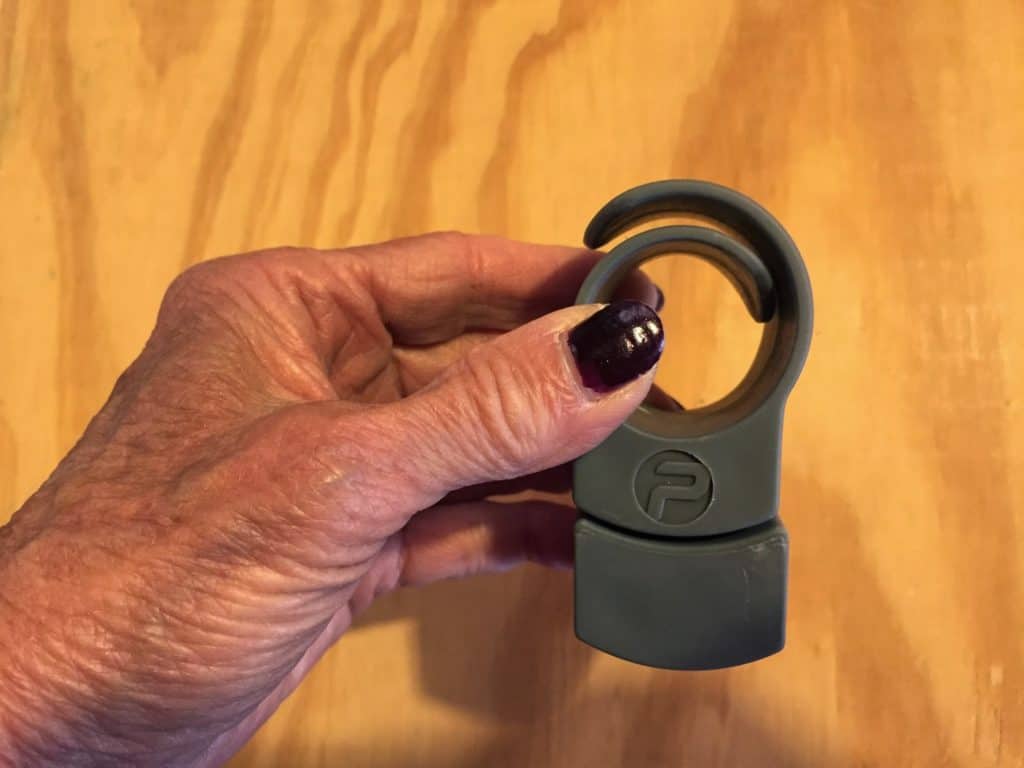 Yes, weights. You put the weighted ring on your penis and perform the squeeze-release exercises (both slow and rapid) along with the DVD. As your pelvic muscles strengthen, you can add the additional weight which attaches magnetically. You'll need a rigid erection (with or without medication) in order to use the weights. (You don't need a rigid erection for the basic program.)
I know, penis weights may seem like a gimmick. But they're not, I assure you. Don't take my word for it — here's what my 57-year-old male tester had to say:
It's great. It takes you through the things you can do to build up those muscles. This program with your choice of a male or female voice tells you exactly how, when, and for how long, and gives you a signal that makes it so much easier. It's like the reason you hire a fitness trainer – sure, you can lift weights on your own, but a trainer helps you.
 The book is great because it talks about why you're doing this and gives background information, in easy to understand terms.
When you get more advanced, you can use the weight system. The weights are comfortable, easy to slip on, and they work.
The whole program is well thought out, and very easy and comfortable to use. It's a great system. I think it would benefit just about anybody.
I was having trouble with getting erections. Using this program, my erections became as firm on their own as when I was using Viagra!
Thank you, Private Gym, for sending me this program for my tester and me to review. This is a powerful tool, especially the complete program, because the weights can make a huge difference.