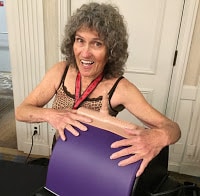 I have a new lover, pet, and housemate. Its name is Sybian. How do I describe Sybian? Can I call a 22-pound, vibrating, mountable, power tool a "vibrator"? That's like calling the Sydney Opera House (which I plan to visit in September!) a music device. Do you want to know my Sybian review?
The Sybian is a big, curved apparatus designed to be mounted. You attach the attachment of choice, apply lubricant to the attachment and to yourself, straddle the Sybian, sit on it, turn the dial to control the sensations, and enjoy.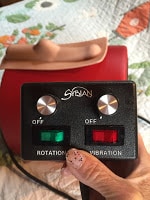 You can rock or you can just sit upright and let the Sybian do all the work. It's not a bucking bronco — you won't be tossed off.
Oh yes, it vibrates. Whoa, does it vibrate! It has a powerful motor, and, and depending on how high you turn the dial, the vibrations go from subtle to strong to 50 shades of holy moly!
Many of the photos and videos show a woman mounting the Sybian with her knees on the floor, but at our age, few of us would be comfortable that way. No problem — put it on a stable, elevated platform so that your feet can be on the floor. I recommend the optional storage cabinet that doubles as 3-level risers. That way, you can straddle it comfortably while sitting upright with your feet on the floor.
The cabinet is also useful because the Sybian is big and heavy — 22 pounds — so it's not easy to carry or tuck away when not in use. The cabinet is built for it, hides it nicely, and has a separate storage area for attachments as well as a lock in case your visiting grandkids get nosy!
If straddling is uncomfortable for your hips, or if you can't relax that way, you can lie down on your bed with the Sybian between your legs on its power-cord end. Then tilt it forward so that the attachment contacts your genitals without putting weight on you. It's fine to use it this way — it won't harm the Sybian or you.
The attachments give you a variety of choices: two for clitoral stimulation without penetration, a variety of options for clitoral pleasure with vaginal penetration, and one with a double dildo for vaginal and anal penetration. The Basic Sybian Package comes with two attachments; you buy additional ones separately or as a kit.
The insertable attachments don't thrust. They vibrate and, using a separate control dial, they can rotate. It's a different feeling if you're used to thrusting.
You may find, as I did, that it took a half-dozen Sybian encounters to discover just the right combination of position, attachments, and intensities that work for you.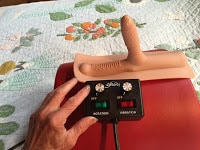 You may find, for example, that you get best results by starting with a non-penetrative attachment and switching to penetration when you're fully aroused. You may find that spending 10 minutes on a low to medium speed vibration will get you ready for a higher speed, or that you like penetration with just a little rotation or a lot, or maybe that changes as you get closer to orgasm. Explore, and don't get frustrated if it takes some experimentation before you experience earth-shaking orgasms.  Important: Read the instructions first — don't go straight to a discovery mission.
Pros:
If you need strong stimulation, you can't find a sexual pleasure tool that's stronger than this.
You can have all the sex you want: clitoral stimulation with or without penetration, with or without a partner.
Attachments let you individualize it to your preference.
Use it solo, or have a partner participate and enjoy your pleasure by watching or holding you or controlling the dial.
If you like penetration, the insertable part can be slender (the finger attachment, pictured on the purple Sybian), jumbo, or some girthiness in between, depending on which attachment you choose.
You can try it for 45 days, and if you don't fall in love with it, you can return it for a full refund minus a $175 reconditioning fee. That's an amazing deal.
Cons: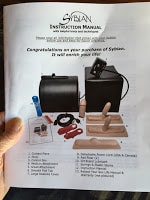 It's a learning curve — not just how to use it (follow the instructions, please — don't just turn it on!), but how to adapt it for your individual needs and optimal pleasure. (This doesn't have to be a "con" if you let go of expectations of instant orgasms and enjoy the journey.)
Heavy, making it hard to move.
It's really loud. I was afraid that my close neighbors would think an airplane was taking off in my bedroom. If you don't have privacy, this will be a problem.
It costs $1,345.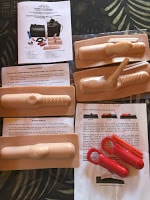 I know I'll get some criticism for recommending a $1,345 purchase. It's not a sex toy — it's a whole different category.
Here's an idea if you have a few friends who are interested and the cost is stopping you: get together and get the 45-day trial, purchasing extra attachments for each of you. Since  only the attachment comes in contact with your genitals, maybe you'd feel comfortable sharing the Sybian — a few days at your house, then put in in the car and take it to friend #1's house, then to friend #2, and so on.  I know some people who bought one in common and schedule who gets it on a weekly rotating basis.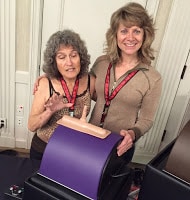 Bunny Lampert shows Joan the Sybian
The Sybian was invented by Dave Lampert in 1985, and it's still a family business. The inventor's daughter, Bunny Lampert, told me, "He was always curious about women and their orgasms — what was happening, and why it was so difficult. What could he create that would be designed for women's sexual pleasure and nothing else?" Clearly, he figured it out!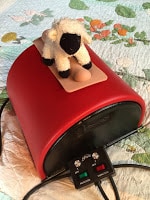 Learn more about the Sybian here. If you have one, or have tried one, or have questions, I hope you'll add your comments below.