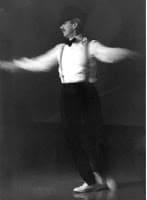 I'm missing Robert terribly today. Tomorrow is Father's Day. I'm reminded of the beautiful photo that his son, Mitch Rice, posted on his Facebook page last Father's Day.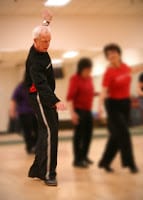 I never knew Robert as the dashing 50-year-old dancer in the photo — he was 64 when we met (still dashing and still a dancer!), and I was 57. Looking back, we were youngsters. I'm now 71; he would have been 78. How I wish we could have grown old together.
In case you're new to our story, Robert and I had exactly seven years together — first kiss to last kiss — before we lost him to cancer. Our love story catapulted me into this world I inhabit now, the world of writing and speaking about senior sex. This August, I will have had as many years without him as with him.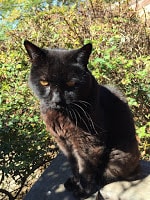 Today I bought a new car. I sold Robert's 2006 Volvo, which I had been driving since he died. It felt like one more letting-go to sell his car. A few months ago, my 16-year-old cat Amo died. Robert had never liked a cat before, let alone loved one. He loved Amo. I know that my memories of Robert won't fade just because my cat died and his car is gone, but it feels like some pages of our time together have been ripped out, or maybe I'm living chapters of a new book that doesn't include him. I don't know if I'm making sense, or even if it's a good idea to write this for my public blog instead of my private journal — perhaps you'll tell me.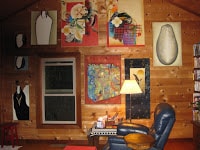 And yet, much as I still ache to hold my sweet Robert, to kiss his warm lips and hear his loving voice, I'm never truly without him. He's here in my house with his art adorning my walls. He sends me bird chirps and flowers and the occasional salamander. He rustles the trees and smiles at me on the dance floor. He tells me how proud he is when I finish a new book — a book he'll never get to read.
Driving my new car home, I was nervous. I've been in two extremely serious automobile accidents. They were both the fault of other drivers, but still, I don't trust my driving skills, and driving a car I'm not used to makes me anxious. I was trying to relax, when suddenly I felt that Robert was sitting in the seat beside me.
I don't mean I was hallucinating. No, I knew the seat was empty. Nevertheless, he was there, and he reassured me in a gentle voice.
"Are you here to make sure I'm safe?" I asked him.
"Yes," he said.
For the rest of the drive home, I played songs that he had loved, or that we had danced to together, or that reminded me of him for some other reason.
Thank you, Robert, for loving me so deeply and teaching me to love fully. I take that with me on my path.