Sybian Update: New Silicone Attachments!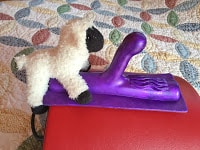 If you look up other reviews of the Sybian, especially the videos on YouTube, you'll think that the only way to use this phenomenal sex machine is by mounting it. You can do that — either on your knees (yeah, like we can get on these old knees at our age?) or with the Sybian on a platform and your feet on the floor. However, there's a much easier and more comfortable way to use it.  I've nicknamed it "Recline and Tilt."
As I suggested in my earlier review of the Sybian:
If straddling is uncomfortable for your hips, or if you can't relax that way, you can lie down on your bed with the Sybian between your legs on its power-cord end. Then tilt it forward so that the attachment contacts your genitals without putting weight on you. It's fine to use it this way — it won't harm the Sybian or you.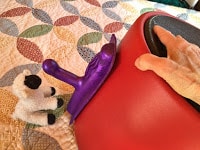 Once I discovered how well that position works, I never went back to mounting my Sybian. Both of these new attachments are particularly fabulous if you're reclining, relaxed, and tilting the Sybian  onto you or into you.
If you already own a Sybian, these attachments will add tremendously to your pleasure. If you don't already own a Sybian, Bunny Lampert, daughter of the inventor, is offering my readers a $75 discount with the code "JOAN75"! 




Order the Orb, the G-Wave, or both attachments here. Learn more about the Sybian here.